Testimonials
"I was thinking about you all day today and what a great person you are."

"I wanted to be #1...After 2 months I reached the top position for my most popular keywords."

Read More...

Above The Fold!
The SEO Book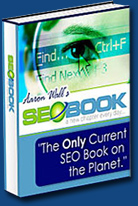 PPC Information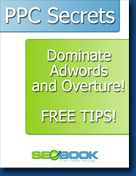 Learn more by reading PPC Blog today.
Need Links?
Need Traffic?
Use these
Free PPC Coupons
SEO Tools
WordTracker
- keyword suggeston
Mid Size Pay Per Click Search Engines
Mid size pay per click search engines: While not providing the same exposure as Overture or Google AdWords, the following engines can still provide quality traffic.
Mid Sized Pay Per Click Search Engine List
Problems With Mid Sized Pay Per Click Search Engines
Fraud: The smaller engines are going to be more susceptible to fraud.
Distribution: After Google AdWords and Overture the distribution level of various pay per click search engines falls off sharply.
Feedback: Smaller pay per click search engines have a slower feedback loop.
Time: Usually time spend improving top tier price per click campaigns would be more beneficial than using a bunch of smaller search engines.
Why Large Pay Per Click Engines are Better
Remember it is not cost per click, but cost per action which is really important. Thus the higher quality traffic provided by the broad coverage of top tier price per click search engines is worth a premium on three levels.
Saves time.
Less susceptible to fraud (assuming you do not get in bidding wars on poorly targeted terms).
Some of the larger pay per click search engines have free tracking and geotargeting. Both features can improve your ROI.
Suggestion for Mid Size PPC Search Engines
Large PPC search engines typically have better distribution and better features. I would suggest trying mid sized pay per click search engines only after I tried using Google AdWords and Overture.
Rants and Raves:
Enhance Interactive, Kanoodle, and Search123 seem to have great customer service.
I am not a fan of ePilot for there large opening fee ($100).
I am not a fan of 7search - I do not feel comfortable using their engine.
SearchFeed has distribution through a ton of small partners so their ROI can very greatly from term to term.
I have been told that customer service at LookSmart is rather slow and a great source of frustration for many webmasters.
Category:
See also:

Got SEO Questions? Get Answers in Minutes NOT Days
Read the SEO Book blog today for the latest SEO tips.
Search the archives for specific posts
You may also want to ask your questions at the SEO Book community forum.