Testimonials
"I was thinking about you all day today and what a great person you are."

"I wanted to be #1...After 2 months I reached the top position for my most popular keywords."

Read More...

Above The Fold!
The SEO Book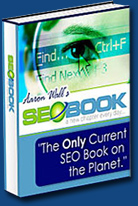 PPC Information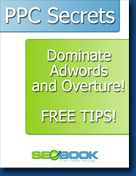 Learn more by reading PPC Blog today.
Need Links?
Need Traffic?
Use these
Free PPC Coupons
SEO Tools
WordTracker
- keyword suggeston
Overture
About Overture
Of all pay per click search engines only Google AdWords has a more broad distribution than Overture. Yahoo purchased Overture in 2003 along with AltaVista, AllTheWeb, and Inktomi to own their own end to end search product.
Currently Overture is used to provide paid search listings on many of the top search engines and internet portals such as: Alltheweb, AltaVista, Yahoo, MSN, and many other portals, search engines, and web sites.
Overture Details

minimum CPC

.10

cost to open an account

$50

promotional specials
monthly minimum

$20

time to set up an account

1 week

web reach

comprehensive

Advertise with Overture.

$25 deposit bonus
Similarities between Overture and Google AdWords
Overture has a program similar to AdSense called Content Match. This program distributes Overture ads near the content of popular sites. Overture is currently only making promotion partnerships with large web sites.

Overture offers regional advertising like AdWords does. The

Overture Local Match

product does not have a minimum monthly spend. Overture Local Match also does not even require you to have a website to participate. It does require you to have a physical address to participate.

Both Overture and AdWords have amazingly large distribution networks.
Overture has broad matching features which enable you to expand to misspellings and synonyms.
Overture has a ROI / bid management tool which can help monitor and improve your listings.
Google AdWords and Overture both offer free ROI tracking tools.
Both Overture and Google AdWords have a negative keyword tool which prevents you from paying for clickthroughs on irrelevant terms. Good terms to cancel out are usually: cheap, free, download, cracks, mp3s, wallpapers.. the type of terms where it is obvious the searcher would not likely convert to a sale or perform the desired action.
Difference between Overture and Google AdWords
Overture defaults to exact match ad listings, which means ads that exactly match a search term will show above broad match ads that match it, even if the broad match bid is higher.
Overture is strictly price driven. Google AdWords is mathematically driven based on consumer driven relevancy. The AdWords price is a function of cost per click * ad relevancy (based on click through rate.)
Overture takes a few days to set up an account - Google is almost instant. (less than 5 minutes)
Overture Local Match also does not even require you to have a website to participate. It does require you to have a physical address to participate. Google AdWords does not require a physical address and does require a website.
Google AdSense ads can appear on smaller sites. Overture is extremely selective with its partners (other than when it partners with companies like Gator / Claria).
Google allows syndication to be turned on or off so that your ad can appear in front of just Google users, or AOL users too. Since Overture drives most their traffic through partner sites they do not have a feature that allows you to turn search partner syndication off.
Google only costs $5 to open an account. Overture costs $50 and has a $20 monthly minimum spend.
Google has automatic approval of all ads - and will list them as long as they follow the guidelines. Overture usually reviews most ads before showing them.
Types of Overture Accounts
Overture has two account types, Self Serve and Fast Track. Self Serve promotion accounts are for those who already know a little about marketing and the internet. Overture Fast Track adds a few features such as
search term selection assistance
title and description assistance
budget management assistance
Free Account Optimization
Assistance with Tracking URLs
6 months of priority service
and automatic editorial approval
The cost for fast track is a one time $199 fee. If you know little about the above categories it is the correct path to take. If you do know about the above categories you may be better off with self serve. I recommend most people learn enough about PPC to control their own ads, or outsource it to a quality SEM company.
Suggestion for Overture
I still prefer Google AdWords since they have many benefits over Overture. If you are reliant on pay per click advertising Overture is a must have account though. Between Overture and Google AdSense you probably have something on the order of 96% web reach.
If you do use Overture it is highly recommended that you use tracking software (or the tracking software they provide). If you will be spending a large sum of money I would recommend using an automated price per click bid management tool.
Some Overture distribution partners will cut some of the ads short. Make sure your most important ad elements are at the beginning of the ad title and ad description.
Do not get in bidding wars for generic terms. Opt to bid on more specific terms.
Send people to targeted landing pages when possible.
Category:
See also:
Overture is owned by Yahoo!

Got SEO Questions? Get Answers in Minutes NOT Days
Read the SEO Book blog today for the latest SEO tips.
Search the archives for specific posts
You may also want to ask your questions at the SEO Book community forum.