Testimonials
"I was thinking about you all day today and what a great person you are."

"I wanted to be #1...After 2 months I reached the top position for my most popular keywords."

Read More...

Above The Fold!
The SEO Book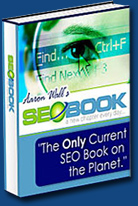 PPC Information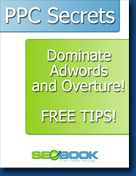 Learn more by reading PPC Blog today.
Need Links?
Need Traffic?
Use these
Free PPC Coupons
SEO Tools
WordTracker
- keyword suggeston
Google AdWords Optimization Tips
Google controls more of the search market than all of its competitors combined. With that being said, Google has a ton of advertising space to sell. If you know how to optimize AdWords better than your competitors you stand to achieve great profit.
Google vs Overture: Overture is the main competitor to Google AdWords. Overture is strictly price driven, which requires a ton of editors to perform countless hours of maintenance. Google is a highly mathematical company, and protect the quality of their listings in two ways: they have editors, and more importantly they monitor click through rate. Why does Google AdWords monitor click through rate?
Google Adwords Tips: Click Through Rate
Click through rate is a rough approximation of relevancy, in many ways this parallels the idea of grading the web on links. A relevant ad will have higher click through rates than a non relevant listing.
Google ads are not strictly price driven. Some think the added relevancy factor relates to the words in the add, while this is somewhat true, the true multiple is click through rate. If a web site has 3* the click through rate, that means Google can sell 3* as much advertising. To reward careful and considerate ads Google chops this price to 1/3 of what it would be with a site that had a third of the click through rate.
Google Adwords Tips: Keyword Selection
Successful ad buyers learn how to lower their prices by tweaking them in to match what the end user is looking for. Bidding wars should be avoided as they are a technique that indicate a lack of creativity. There are multiple ways to say the same thing, and few people are creative enough to think what is "searched for." Yes you can exactly describe your product, but you need the people who have a problem to find your solution weather or not it exists. You may even want some of your keyword phrases to be in question format.
If you take the time to be the only one listed for a creative relevant term you may seem like the only answer to a problem, or at least the only one who cared. If you have the keywords you want to list well in within your text it they will be bold when people search for them. This will also add to your click through rate.
Qualify your traffic. One word search terms frequently draw competitors and junk traffic to a level that usually exceeds any intrinsic value the listing may have. Not every ad makes money.
Google Adwords Tips: Basic Google AdWords Listing Functions
Google has three separate ways you can list AdWords.
AdWords A Adwords B, will pick up any search string with AdWords A Adwords B in it, even if they are in any order. In addition broad matching (which is on by default) also shows your ads for synonyms.
"AdWords A Adwords B" will pick up any search with that exact phrase "AdWords A Adwords B" included in the search string.
[AdWords A Adwords B] will only pick up on searches for AdWords A Adwords B
In addition to the above techniques of qualification, you can also list which words you do not want in the query. if you did not want the word "free" in the search you would put -free at the end of your keywords list, or set your negative keywords at the campaign level.
Typical bad words are: free, cheap, download, crack, pic, pics, gallery...
Google Adwords Tips: Google AdWords Syndication
Google AdWords are syndicated, which means you can choose to list only in Google; in Google & other search sites; or in Google, other search sites, and in contextual ads. Think of the various user bases and decide which may be better for you. You also can decide which countries and languages you want to list in for further targeting.
Some people have been complaining that content syndication is lowering their ROI. I offer my solution here.
Google AdWords Tips: AdWords Groupings
You can place expensive words in there own ad group. You may want to use some ad groups for generic terms and others for specific terms.
As long as they are relevant and specific you are not likely to use too many keyword phrases, just remember to place them in various groups and track them.
The proper technique to gather accurate market information is to overspend off the start and see what happens in the long run. If you overspend you collect faster feedback. You learn from your account.
Google Adwords Tips: Bidding
The important tip as far as bids go is to bid enough to get first screen exposure, and do not keep throwing more money at a problem to do this. If the click through rate is garbage, fix the keywords and content of the ads.
If you start out way too low you will always be fighting an uphill battle. Remember that you are bidding against the best ads that have been developed over time so you are likely going to get your tail kicked for a while.
Google Adwords Tips: Tracking
Google allows the ads to be grouped and has began offering a free conversion calculator. Through properly grouping and monitoring the results of your Adwords campaign it is easy to see which ads are profitable and create similar ones.
Google AdWords Tips: Targeting
Google AdWords now allows you to target your ads based on the country, state, or city level, as well as have your ads appear within a specified radius of a location.
Geotargeting will help increase your clickthrough rate and give you traffic which is more pre qualified for a purchase if you are a local business.
Google AdWords Tips: Affiliates
Only one affiliate or merchant ad can appear per landing page per keyword. Whatever ad between all the affiliate ads and the merchants own ad has the highest effective click price (max CPC bid * clickthrough rate) will display.
If affiliates make their own white label review site with substantially unique content then many of those ads can display along with the merchant ad.
Google AdWords Tips: Tips for a Successful Campaign
If you intend to launch a large AdWords campaign, these Google AdWords tips on this page are not enough to guarantee your success. You need creativity, hard work, and if you are really serious about AdWords the $69 you will spend on Andrew Goodman's report might be the best $69 of your life. In his 150 page eBook he covers in depth details to help guarantee your success.
Many other tips are covered in his report and what you have read thus far is only the tip of the ice burg.
Buy the Google AdWords Optimization Report from Andrew Goodman for $69.

Got SEO Questions? Get Answers in Minutes NOT Days
Read the SEO Book blog today for the latest SEO tips.
Search the archives for specific posts
You may also want to ask your questions at the SEO Book community forum.