Testimonials
"I was thinking about you all day today and what a great person you are."

"I wanted to be #1...After 2 months I reached the top position for my most popular keywords."

Read More...

Above The Fold!
The SEO Book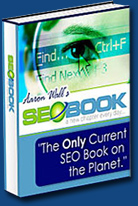 PPC Information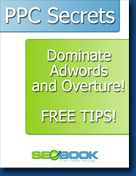 Learn more by reading PPC Blog today.
Need Links?
Need Traffic?
Use these
Free PPC Coupons
SEO Tools
WordTracker
- keyword suggeston
Niche Specific PPC Search Engines
What are Industry / Niche Specific Search Engines?
Niche specific search engines are search engines designed to cater to a certain market.
Why Advertise on Niche Specific Search Engines?
Niche specific search engines providing additional filtering and enhancing your advertisements targeting by pre targeting the consumer to a specific niche.
Problems with Niche Specific Search Engines:
In one way or another most web based businesses are generic middle man businesses. I the search engine marketing type person am one of these...
There are many more REALLY BAD businesses than there are good businesses. When delving into smaller corners of the web it is likely you will find many bad businesses.
Off the start I would recommend using Overture and Google AdWords for your pay per click marketing providers. Use them and see if you can convert. If you can and can profit while doing it then you may have a scalable business and it may be worthwhile to start advertising elsewhere.
You may also want to ask at some of the SEO forums if you have questions about a particular ad network. When in doubt go with your gut.
See also (external links):

Got SEO Questions? Get Answers in Minutes NOT Days
Read the SEO Book blog today for the latest SEO tips.
Search the archives for specific posts
You may also want to ask your questions at the SEO Book community forum.