Testimonials
"I was thinking about you all day today and what a great person you are."

"I wanted to be #1...After 2 months I reached the top position for my most popular keywords."

Read More...

Above The Fold!
The SEO Book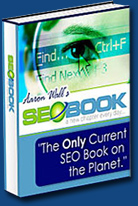 PPC Information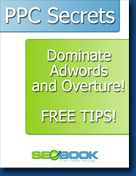 Learn more by reading PPC Blog today.
Need Links?
Need Traffic?
Use these
Free PPC Coupons
SEO Tools
WordTracker
- keyword suggeston
Tracking Customer Conversion
Start Tracking Conversions Today
Some people have found changing a single sentence or two can drastically improve their conversion rates. I have been to multiple internet conferences where the speaker wanted to start off with one simple question.
So what is your conversion rate like right now?
Most of the time people say "I don't know." The internet is a direct marketers dream. If your site is not working well enough you need to track to find out why.
Why is the Internet is a Direct Marketers Dream?
Fast feedback loops. Google AdWords lets you start testing a new business model in less than an hour.
Cheap distribution. Routinely most industries can acquire targeted leads for around 30 cents. Sending out bulk mail usually costs about $1 per piece.
Cheap frequency. After you lock in a customer email allows you to reach them with your marketing messages essentially free. It is easier to resell to a customer that has already bought than to find new customers.
Cheap change. You can change your brand strategies or make minor changes to your ads rather quickly and at inexpensive prices.
Free split testing. Google AdWords allows you the ability to A / B test your ad copy, sales page, or site design layout in real time at no addition charge to you.
Track every cent. Every single portion of the sales process is trackable. You know what portions of your advertising are working and which ones waste money.
Tracking Visitor Paths with Tracking Software
My home page was not following many of the basic ideas behind good home page design. I had quite a large amount of text on it, and it was not focused toward the specific desired goal. I bought ClickTracks and found out that 80% of the traffic that came to my home page was leaving without viewing another page. That is alarming.
What a waste of traffic!
I since have made design, layout, and copy changes to dramatically improve my site stay time.
Quick Changes
If you use dynamic programming, server side includes, blogging software, or external CSS files you can literally change everything about your website in a few minutes.
Change the font - and measure.
Change the colors - and measure.
Change text size - and measure.
Change anything - the key is just to test and track after you change things. Sometimes you run into the best combinations just by accident.
A/B split test - Google AdWords will allow you to A/B split test different webpages at the same time.
Log File Analyzers
ClickTracks - log file analyzer which allows you to track specific routes and just about anything you could imagine on your website.
Webtrends - expensive NetIQ offering similar to ClickTracks.
Pay Per Click ROI Tracking
ConversionRuler - a pay per click monitor software system. ConversionRuler is easy to use and allows you to track the conversions on your site from various pay per click search engines by adding a tracking code in your links.
Many of the top PPC search engines come with built in conversion tracking. Google also offers free cross platform keyword tracking with their AdWords program.
Many of the more advanced ppc bid management software tools (such as Atlas OnePoint) have built in ROI tracking software. Some of them will even allow you to set your bid prices dynamically based on a set cost per action.
Free Site Traffic Stats
SiteMeter & Extreme Tracking - for those who just do not want to spend a dime. free site traffic reports. I do not recommend using these on most conversion focused commercial websites.

Got SEO Questions? Get Answers in Minutes NOT Days
Read the SEO Book blog today for the latest SEO tips.
Search the archives for specific posts
You may also want to ask your questions at the SEO Book community forum.