Testimonials
"I was thinking about you all day today and what a great person you are."

"I wanted to be #1...After 2 months I reached the top position for my most popular keywords."

Read More...

Above The Fold!
The SEO Book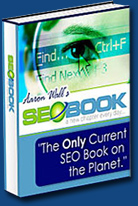 PPC Information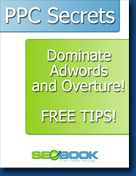 Learn more by reading PPC Blog today.
Need Links?
Need Traffic?
Use these
Free PPC Coupons
SEO Tools
WordTracker
- keyword suggeston
Human Edited Web Directories
It is no accident that one of the first links listed on a search marketing information site is a page about directories. I want to list in the search engines, not directories. Who cares? If it were only that simple, if it were only that easy.
Why Are Directories Important?
As the search engines continue to get smarter they are finding better and better ways to return highly qualified results. A search engine is more less a large database of machine collected data. Though we try hard to make it intuitively obvious what our site is about, the search engines need a starting point.
Human edited directories, for this reason, are important to be listed in. Currently there are a couple major web directories, followed by around a dozen other decent general directories and many niche specific directories.
Since a large portion of the value of a directory listing is in how search engines will evaluate the link, it is highly important to ensure that the directories you are paying decent money to list in provide static text links that search engines can spider.
Search engines also do follow and count many redirect links. If it is a java redirect then it will not be followed, but some directories which show a 301 or 302 redirct when you do a Server Header Check of the listed sites. 301 redirects should count most of the time and some of the 302 redirects will count as links.
Yahoo! and Google do not like to admit when their search engines are broke and are not following 302 redirects.
Directory Submission Tips
Before attempting to list your site in any directory, it is extremely important to read the guidelines for listing your site in that directory. Choosing the appropriate category and / or writing a good title and description may be the difference between getting listed or rejected.
see also:
Major Directories
The Open Directory Project listed sites for free. It was created in response to slow listing times in the Yahoo! Directory. There is a static snapshot of the Open Directory Project at ODP.org, though DMOZ shut down in 2017. Some DMOZ editors continued to process new submissions on a continuation of the original DMOZ directory at Curlie.org.
The Yahoo! Directory was the original inspiration for the ODP, but shut down in 2014.
LookSmart: LookSmart is a legacy directory which has lost most of its pull when MSN dumped it at the start of 2004. LookSmart has changed its revenue model to become a pay per click player (similar to Overture, but with less distribution). Commercial sites pay a bidded fee per click in a keyword auction. I do not recommend LookSmart's services due to low traffic quality when I tried them near the end of 2004.
Other General Directories
A couple other important directories and web guides are: the Virtual Library, GoGuides, JoeAnt, Skaffe and Gimpsy.
Many web guides like About.com and vertical search properties like Business.com have went through a change of ownership and changed business models.
IAC acquired About.com from the New York Times and broke the site into about a half-dozen different branded verticals which have had great success.
BOTW shifted from a general web directory to a local search directory after a change in ownership.
Most of the general web directories that remain are small with limited reach and charge a one time fee of $100 or less for editorial review. If search engines index & trust the links then they provide a great value because the links keep paying for themselves month after month without ongoing fees.
General Web Directory Problems with Google
Many directories are not well indexed by Google. Those which are indexed rarely rank because they are hit by the Google Panda algorithm. For web directories to succeed in Google on a lasting basis as sites which rank and drive traffic they need to do one or more of the following
specific focus (Yelp does local, TripAdvisor does hotels, Zillow does residiential real estate)
vlaue added features (hotel reviews on TripAdvisor, food reviews on Yelp, foreclosure listing access on Zillow)
unique services you can't find elsewhere (Zestimates from Zillow)
allow on-site transactions like food ordering, hotel booking, etc.
be associated with & an extension of a trusted industry trade group
serve a local area where the web is vastly underdeveloped (e.g. be an official tourism guide for a small town in a third world market)
The general consensus view among the SEO industry is general web directories do not have much value in Google. Even if Google is filtering out some of these links, the links may still help improve your Bing search rankings.
See Also
Directory Resource Websites

Got SEO Questions? Get Answers in Minutes NOT Days
Read the SEO Book blog today for the latest SEO tips.
Search the archives for specific posts
You may also want to ask your questions at the SEO Book community forum.