Testimonials
"I was thinking about you all day today and what a great person you are."

"I wanted to be #1...After 2 months I reached the top position for my most popular keywords."

Read More...

Above The Fold!
The SEO Book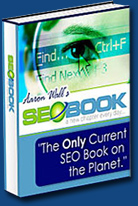 PPC Information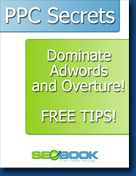 Learn more by reading PPC Blog today.
Need Links?
Need Traffic?
Use these
Free PPC Coupons
SEO Tools
WordTracker
- keyword suggeston
Human Edited Web Directories
It is no accident that one of the first links listed on a search marketing information site is a page about directories. I want to list in the search engines, not directories. Who cares? If it were only that simple, if it were only that easy.
Why Are Directories Important?
As the search engines continue to get smarter they are finding better and better ways to return highly qualified results. A search engine is more less a large database of machine collected data. Though we try hard to make it intuitively obvious what our site is about, the search engines need a starting point.
Human edited directories, for this reason, are important to be listed in. Currently there are a couple major web directories, followed by around a dozen other decent general directories and many niche specific directories.
Since a large portion of the value of a directory listing is in how search engines will evaluate the link, it is highly important to ensure that the directories you are paying decent money to list in provide static text links that search engines can spider.
Search engines also do follow and count many redirect links. If it is a java redirect then it will not be followed, but some directories which show a 301 or 302 redirct when you do a Server Header Check of the listed sites. 301 redirects should count most of the time and some of the 302 redirects will count as links.
Yahoo! and Google do not like to admit when their search engines are broke and are not following 302 redirects.
Directory Submission Tips
Before attempting to list your site in any directory, it is extremely important to read the guidelines for listing your site in that directory. Choosing the appropriate category and / or writing a good title and description may be the difference between getting listed or rejected.
see also:
Major Directories
Other General Directories
A couple other important directories and web guides are: About, the Virtual Library, GoGuides, JoeAnt, Business.com, and Gimpsy.
A few strong looking newer directories are:
Business.com charges $299 per year for listing, and is well worth that price for many B2B businesses.
Most of the other directories charge a one time fee of $50 or less. They provide a great value because the links keep paying for themselves month after month without ongoing fees.
Directory Problems with Google:
Many directories are link farms and additionally Google may even be filtering out some of the links from some of the somewhat legitimate directories.
Even if Google is filtering out some of these links, the links may still help improve your Yahoo! and MSN rankings.
See Also
Directory Resource Websites

Got SEO Questions? Get Answers in Minutes NOT Days
Read the SEO Book blog today for the latest SEO tips.
Search the archives for specific posts
You may also want to ask your questions at the SEO Book community forum.