Testimonials
"I was thinking about you all day today and what a great person you are."

"I wanted to be #1...After 2 months I reached the top position for my most popular keywords."

Read More...

Above The Fold!
The SEO Book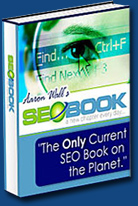 PPC Information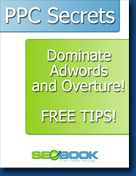 Learn more by reading PPC Blog today.
Need Links?
Need Traffic?
Use these
Free PPC Coupons
SEO Tools
WordTracker
- keyword suggeston
Business.com Directory
Business.com has a very catchy name, and the simple domain gives a sense of credibility to their directory. While most of the directories offer some type of free site submission, Business.com does charge $99 for the service.
Try Business.com
Business.com Distribution
On top of having over 12,000,000 searchers for Business.com, they also have a broad partner network. There is a $99 annual fee to suggest a site to Business.com which is easily justified if it helps convert a few customers.
In addition to regular listings Business.com also sells pay per click advertising.
Business.com Directory Submission Tips
Business.com has a decent link popularity. Generally you will get a better boost in link popularity if your site gets listed in a higher level category. Some of the categories may be flooded with submissions and may not parse out much outbound link popularity to any individually listed site. Business.com does allow multiple deep links to listed sites though.
This site is about search engine marketing, seo, site promotion, etc. I bought a link in the site promotion category since at the time it was linked to from the Business.com home page. You may not get listed in the best category, but it does not hurt to try. I also believe that Business.com will let you list your site in multiple categories.
Business.com also has a pay per click advertising system that account managers will really try to push if you have to call Business.com for any reason. It may provide solid value for some and it may be a complete waste of money for others. You will not be certain until you try.
Recently while renewing my listings Business.com charged me $75 instead of the regular $99 price. I usually avoid most recurring fee directories, but I feel Business.com is one of the few directories that is worth the hassle of an ongoing subscription. Unlike lots of other directories Business.com not only provides link popularity but also drives a decent amount of traffic to many sites.
Business.com External Resources

Got SEO Questions? Get Answers in Minutes NOT Days
Read the SEO Book blog today for the latest SEO tips.
Search the archives for specific posts
You may also want to ask your questions at the SEO Book community forum.