Testimonials
"I was thinking about you all day today and what a great person you are."

"I wanted to be #1...After 2 months I reached the top position for my most popular keywords."

Read More...

Above The Fold!
The SEO Book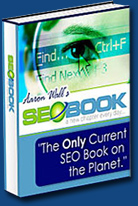 PPC Information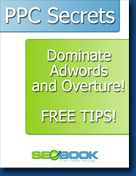 Learn more by reading PPC Blog today.
Need Links?
Need Traffic?
Use these
Free PPC Coupons
SEO Tools
WordTracker
- keyword suggeston
Submitting Your Website: Directory Submission Tips
There are many important tips to follow when submitting your web site to a directory.
Before You Submit
Make sure your site does not look like it is under construction and is not full of broken links.
Verify your site is not already listed in the directory. If you have a new site it is not likely that it exists within any directories.
Read the overall directory submission guidelines.
Choose the correct directory category: this is what adds value to the directories (organization).
At the Category
Read the submission tips for that category: if you do not you are likely to violate one of the basic directory rules and not get accepted (or at the very least delay your acceptance).
View how others listed their site in the category. list your site with its unique features, but follow a similar layout to the other sites in that category.
Page Title
In the title you usually should only list the official page title (read respective official directory submission tips from the directory in question).
If the directory / category in question seems rather lenient then try to get the primary keyword for your homepage in this title. This title is usually what makes up the hyperlink to your site.
Most directories are alphabetical, so it may be in your interest to list early in the alphabet. if you do not naturally, do not attempt to alter your listing just for this purpose.
Page Description
In the description describe the special features or functions your site has. Describe the site, not the business.
Do not overly repeat words in your directory submission unless you can make them sound natural.
Do not use promotional language. The editor of the directory does not have the time to verify that your site is in fact the "best."
After You Submit
Have patience as many of these directories are overwhelmed with submissions.
You should track your submissions to different directories for your own records. Some directories are there just to make profit and are not well maintained. It is a waste of time to submit your site a half dozen times to a directory that is not being updated.
For the Open Directory Project you may want to track your submissions with SEO Tie. In addition you can ask questions at the Resource Zone forums.
Become an Editor
It may also benefit you to become an editor. Most web directories other than Yahoo! allow people to become editors and add web sites.
Directory Submission Resource Websites

Got SEO Questions? Get Answers in Minutes NOT Days
Read the SEO Book blog today for the latest SEO tips.
Search the archives for specific posts
You may also want to ask your questions at the SEO Book community forum.