Testimonials
"I was thinking about you all day today and what a great person you are."

"I wanted to be #1...After 2 months I reached the top position for my most popular keywords."

Read More...

Above The Fold!
The SEO Book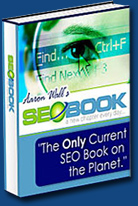 PPC Information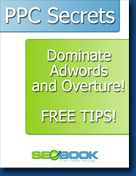 Learn more by reading PPC Blog today.
Need Links?
Need Traffic?
Use these
Free PPC Coupons
SEO Tools
WordTracker
- keyword suggeston
Open Directory Project (DMOZ)

Verizon's AOL division closed the DMOZ web directory March 17, 2017, thus webmasters can no longer submit websites to the project.
Here are some other related resources, though beyond listing these resources, the article below it is outdated & archived.
ODP Resource Websites
What is the Open Directory Project?
ODP refers to the Open Directory Project which was originally started as a volunteer run directory of the web under the name New-Hoo and Gnu-Hoo. This directory had its name changed to the Open Directory Project after it was acquired by Netscape. The Open Directory Project was crafted such that anyone could use it's content as long as they gave appropriate credit to the copyright owner. Learn more about the Open Directory Project (from official site).
Why is the Open Directory Project so Important?
Since it is free to use and human edited, many sites use the Open Directory Project as a backbone or structure to their web sites. Many websites also link into the Open Directory Project. The Open Directory Project is also mirrored as the Google Directory. Both of these directories have high PageRank and link popularity. These listing really aid in the development of PageRank, link popularity, and also provide some flow through traffic.
Search the Open Directory
Their directory has since went offline, though you can search snapshots of their directory on sites like OpenDirectoryProject.org & DMOZLive.com.
Problems with the Open Directory Project
Many of the Open Directory project editors are swamped with awaiting inputs so patience is importance. Since the Open Directory is so widely used many editors take their position seriously and only allow top notch sites to be listed in their directory. Some volunteers do not take the responsiblity as seriously and do not actively edit their categories.
Since it is so huge the opinions of what defines "quality" changes greatly throughout the directory. The ODP does not aim to list all websites, and most submitted sites never get listed. Listed sites should be unique and have original content.
Interact with Open Directory Project Editors
It is hard to become an editor for the open directory, and it is hard to get honest answers from many people when attempting to interact with the open directory project editors. There are usually at least a few editors at the Resource Zone who can help answer any of your questions related to becoming an editor or getting a site listed.
If you need to update your Open Directory Project listing you should find the category your site was in and submit the updated information via the update listing link in the upper right corner.
How to Syndicate the Open Directory
Many web sites use the Open Directory Project on their own web site. See our Personal Open Directory Project example page. Keep in mind that there are many ways to use this service and many different providers. Some people like to use a cgi script which displays affiliate embedded amazon links to the right of the search results.
Open Directory Project Listing Tips
Usually home pages have a better chance at getting listed in the Open Directory than deep site pages. If you can not get a home page listed and have multiple topics within the same site do not be afraid to try and submit a subpage.
When you resubmit a page it makes your site go to "the back of the line," so there is no reason to resubmit unless you are not listed after many many months. At that point I would suggest checking out the Resource Zone to ask about your submission status before resubmitting.
You may also want to email the category editor or the editor one level up from your category if you are having problems with your site. Be sure to check out other listings inside the category you are submitting to and thoroughly read the ODP submission guidelines prior to site submission.
Check to See if You are Listed in DMOZ
In the past you could type in your domain name (ex: search-marketing.info) to see if your site is listed in the Open Directory. Also if you search with a / at the end of your domain name it will show any of your pages which are listed in the Open Directory.
Sometimes their search function is rather poor though. I recommend checking your backlinks periodically to determine if your site is listed.
Value of a DMOZ Listing
Some people will tell you DMOZ is the most important thing in the world. Some poeple will tell you DMOZ is completely worthless. There is no set value of a listing. Listing certain sites in some categories is a real big bonus. Listing sites in some other categories does not add much value to your position on the web.
DMOZ is just one site. Although it gets syndicated through a number of mirror websites you can rank well without a DMOZ listing.
Become a DMOZ Editor
You can apply to become a DMOZ editor if the category you want does not have an editor. Take your time while applying to become an editor as they are rather stringent in who they will accept. You are more likely to get accepted to maintain smaller non commercial categories than large commercial ones.

Got SEO Questions? Get Answers in Minutes NOT Days
Read the SEO Book blog today for the latest SEO tips.
Search the archives for specific posts
You may also want to ask your questions at the SEO Book community forum.