Testimonials
"I was thinking about you all day today and what a great person you are."

"I wanted to be #1...After 2 months I reached the top position for my most popular keywords."

Read More...

Above The Fold!
The SEO Book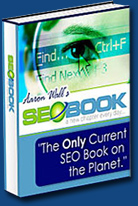 PPC Information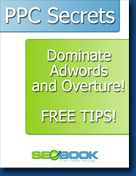 Learn more by reading PPC Blog today.
Need Links?
Need Traffic?
Use these
Free PPC Coupons
SEO Tools
WordTracker
- keyword suggeston
Professional Search Engine Marketing Services
Do You Have Top Rankings?
Is your site listed well in the search engines? Are you getting enough traffic? Is your traffic converting into customers? If the answer is no to any of the above I can help you.
You are not interested in me saying how great I am at search engine marketing, and neither am I. Search engine marketing is easy though after you study search engines for years. Simply put, my hobby is my job.
Am I Cost Effective?
On my pages you see no fancy terms such as "case studies" or "white papers." I will not take you to the cleaners.
This is not to say that I am cheap, but that there is great value in the work I do. I am limited to working for only a few customers at a time though since I work primarily by myself and have many of my own sites.
What I do:
I can help you with any portion of your search engine marketing campaign.
Site Submission: Submit your site to major search engines and directories. Directory registration is extremely important for building lots of inbound links from many different unique C block IP addresses. These links help mesh your site into the fabric of the web. Learn more about site submission services
Copy Optimization: Ensure your code and copy are fine tuned for top search engine placement. Make sure your keywords are the correct ones and that the HTML structure of your documents will help improve your rankings in the major search engines.
Link Building: Help you find one way inbound links and / or reciprocate links with expert sites in your industry. Learn more about link building services
Copywriting: I can help you craft content which not only is appealing to search engines, but also to humans. Learn more about copywriting services
Website Usability / Conversion: Point out tips to help turn your website visitors into satisfied customers. while not being a website usability guru, I can likely point out some of the things that prevent your site from converting.
Social Integration: I see if / how we can add any socially important ideas to your site to reduce ongoing ad spend by helping your site acquire free unrequested links.
Search Engine Marketing Consultation
Based on the shear amount of time required to do a good job search engine marketing is an expensive job to outsource. If you are looking to save money I can teach you search engine marketing.
Give me a chance to help you be a success and I will not let you down. Generally most people find about two hours to be sufficient to get them headed on the path to success.
When you call me, you do not talk to some random worker in a corporate pyramid. When you call me, you talk to me.
Schedule Your Consultation Today
Since I work for myself and by myself I can only work on a few clients websites at a time. I do not work on the websites of most people who contact me.
"Calling Aaron and having him run an analysis on my site was extremely helpful. I've been online for a while and already knew quite a bit about search engines, but he was able to quickly give me many specific ways to improve my ranking that I didn't know about. During our call my pen was going a mile a minute as I wrote down the recommendations I received. He also did an excellent job of explaining his recommendations so I understood why certain things needed to be done. I've added his name to my rolodex as a key resource for search engine marketing and will be calling again. The best part was he didn't try to sell me anything! He just gave me tips and help so I can improve my rank. Thank you Aaron!"
- Jason Lexell of Digital Harvest Media
I can quickly provide cost effective consultation which will outline specific action points to improve your web traffic and sales conversions. If I am too busy to work on your site I can also refer to some other top search engine marketers. Schedule your consultation today.
Charity
If you have a great cause I have no problem working for free. I provide my ebook to charities and am also quick to provide free guidance and services when possible.
Though we are all special businesses are not charities :) ... If you are out to make money then I have to make some too - after all, I need to pay rent and buy gourmet peanut butter :)

Got SEO Questions? Get Answers in Minutes NOT Days
Read the SEO Book blog today for the latest SEO tips.
Search the archives for specific posts
You may also want to ask your questions at the SEO Book community forum.