Testimonials
"I was thinking about you all day today and what a great person you are."

"I wanted to be #1...After 2 months I reached the top position for my most popular keywords."

Read More...

Above The Fold!
The SEO Book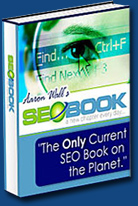 PPC Information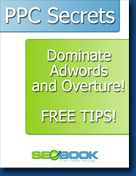 Learn more by reading PPC Blog today.
Need Links?
Need Traffic?
Use these
Free PPC Coupons
SEO Tools
WordTracker
- keyword suggeston
Professional Link Building Service
Brief History of Search Engine Relevancy
When search engines began they were rather primitive. They started off matching the text in a file name to the user query with no relevancy element. Later they began to pay attention to page copy. Technology has improved the ability of these machines to organize information. Today search engines such as Google heavily rely upon link analysis.
Why Link Building is Important
Throughout history there was a war going on between "spammers" and search engines. As the search engines would improve their algorithms, a new spam technique would arrive. Cat and mouse...Cat and mouse.
The search engine engineers realized that one of the best ways to prevent this spam is by relying on information which does not exist on the page.
It cost a ton more time and money to build link popularity from a large variety of sites than it does to create more pages.
Facts About Link Building
Link Quality vs Quantity: Link quality is far more important than link quantity; however, as long as the links get indexed any link will likely help make your site seem more authoritative to search engines such as Google and Yahoo! Search.
PageRank vs Anchor Text: Anchor text is more important than PageRank.
Reciprocal Link Requests: Most people who request link exchanges are not worth exchanging links with.
Link Building Timeline: It can take many months and hundreds (or thousands) of dollars to build an effective linking campaign.
One Way Links: Directory links, press releases, and related website links can help you build an effective linking campaign without the worries associated with exchanging links with sketchy sites..
Promoting Good Ideas: It is far easier to create an idea worth promoting than it is to promote an idea not worth promoting.
Link Building Price: The price of an effective link building price can vary greatly depending upon industry. It can cost anywhere from a one time fee of around $1,000 up to an ongoing monthly fee of $10,000 or more.
How I Can Help You
I am an editor for many web directories and have submitted web sites to all of the major web directories including Yahoo!, DMOZ, Zeal, and many smaller directories.
I start link building campaigns by registering your site with dozens of directories. In addition I find other links for your resource, or teach you creative ways to find them yourself. A link building campaign is part of any effective search engine marketing campaign.
Cost of Link Building
I can start building your linking campaign (through proper directory registration) for as low as $1,000. If your site is in a competitive part of the web it will take considerably more time, effort, and monetary investimet. Some areas of the web have considerable competition and link renting.
The cost of building an effective linking campaign is usually the single biggest cost in the search engine optimization process and can vary widely depending upon industry.
My Fee Schedule
I submit your site to directories which provide static links search engines index and evaluate. I charge the directory registration fee plus $20 per link.
Custom tailored link building services are also available. If you are unsure what you want or need feel free to give me a call so we can discuss it.

Got SEO Questions? Get Answers in Minutes NOT Days
Read the SEO Book blog today for the latest SEO tips.
Search the archives for specific posts
You may also want to ask your questions at the SEO Book community forum.