Testimonials
"I was thinking about you all day today and what a great person you are."

"I wanted to be #1...After 2 months I reached the top position for my most popular keywords."

Read More...

Above The Fold!
The SEO Book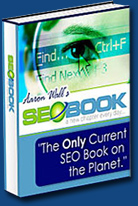 PPC Information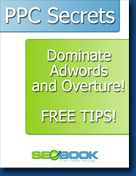 Learn more by reading PPC Blog today.
Need Links?
Need Traffic?
Use these
Free PPC Coupons
SEO Tools
WordTracker
- keyword suggeston
Web Site Submission Service
Submit to 1,000,000 Search Engines
About a dozen web sites drive as much traffic as the rest combined. When people say "submit your site to 1,000,000 search engines" they are joking...looking only for a quick buck.
The key to successful web site submission is to know what sites are important, and manually submit your site properly to those sites.
When I perform your web site submission I will also provide free consultation to help improve your page ranking as well.
Search Engine Paid Inclusion
All of the major search search engines provide a paid inclusion program with the exception of Google, though I do not necessarily recommend using any of them for most websites.
Search engines will eventually find your web site if you have inbound links, which is why I recommend submitting your site to directories.
Submitting Your Site to Directories
Search engine algorithms are stupid. They have no way to define the quality of information without the aid of human input. Directories work as roadmaps to help organize and define web content in the eyes of search engines. Submitting your site to some of the top web directories will help the search engines find and understand what your content is about.
Comprehensive Directory Registration for Your Site
I will submit your site to over 60 one time fee directories for $3,000. You will get over 60 inbound links which are analyzed by major search engines. These will be from various C class IP blocks. These links will help blend your site into the fabric of the web. All of the associated directory review fees are included in the $3,000 price.
Custom tailored directory registration services are also available. If you are unsure what you want or need feel free to give me a call so we can discuss it.

Got SEO Questions? Get Answers in Minutes NOT Days
Read the SEO Book blog today for the latest SEO tips.
Search the archives for specific posts
You may also want to ask your questions at the SEO Book community forum.