Testimonials
"I was thinking about you all day today and what a great person you are."

"I wanted to be #1...After 2 months I reached the top position for my most popular keywords."

Read More...

Above The Fold!
The SEO Book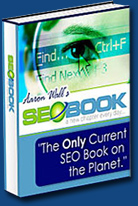 PPC Information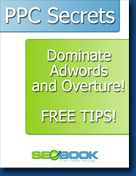 Learn more by reading PPC Blog today.
Need Links?
Need Traffic?
Use these
Free PPC Coupons
SEO Tools
WordTracker
- keyword suggeston
SEO Tips
Importance of Organic Rankings
A Jupiter Media study found that 5 out of 6 commercial purchases came from the organic search results versus paid ads.
Organic vs PPC vs Paid Inclusion
Many search engines had to find new revenue streams as the dot com bubble burst and targeted pay per click text ads provided that stream.
Yahoo! also has a paid inclusion program which is said to ensure coverage but not to have any effect on relevancy. Listing in their paid inclusion does get your site a human review though, so it may help improve your relevancy scores some.
Regular organic traffic: Organic search results are the free results off to the left side of the page.
Pay per click ads: Pay Per Click ads are usually at the right side of the page. Some search engines also place a few at the top & bottom of pages. Typically PPC ads in most search engines (such as Google, MSN, and Yahoo!) are above or below the search results are in a colored box. AOL and Ask Jeeves do not make it as easy to distinguish their paid listings though.
Paid inclusion: Paid inclusion sites list in the regular organic listings but paid inclusion is said to have no effect on relevancy. They are blended into the search results and can not be easily distinguished from the other search results.

AltaVista was known to have a problem with mixing paid inclusion and organic ads for a while. Google feels paid inclusion is a conflict of interests with relevancy and has never had a paid inclusion program.
Why the Name Organic Listings?
They got the name organic listings because they are usually ideally unaltered by humans and not paid for.
Why Organic Listings Are "Pure"
If people thought their searches returned nothing but a bunch of advertisements, they would stop searching. For that reason these organic listings are pure, or at least the search engines want us to believe they are pure.
Google has been praised heavily for returning what many have deemed the most relevant search results while keeping their revenue stream clearly isolated from the organic listing results. As time passes though pressures have degraded Google's search relevancy.
SEO Tips to Improve Organic Rankings
There are many stages to achieving great organic listings.

Your site should be about something you are an expert on.
A good site plan should be thought out before you begin marketing.
Scope out the competition to see how competitive your keyword landscape is.
Decide what keywords you want to use prior to making your site (and before each page), and include them in your meta tags , page copy, page title, and file names when possible.
Your site should be easy to navigate and search engine friendly.
Each page should have a specific focus which is strongly and thoroughly maintained throughout.
Submit your site to the directories.
(not required) Search for spam in your keywords and report spam results. Some search engines (such as Yahoo!) actively edit their search results and you may be able to get spammy competitors removed.
Build a linking campaign. (Link building is the single most important step to EFFECTIVE SEO.)
Repeat what steps you feel necessary until you achieve top rankings. This is an ongoing process for most sites (especially in competitive fields).

Listings that appear off to the side or in another color than the rest of the results are not typically organic listings. These are typically pay per click paid listings.

Many of these paid listings come in a colored box as well.
SEO Timetable
While the linking campaign takes time to develop, for non competitive keyword phrases the SEO process can be completed in a few weeks.
If you are in a competitive field you will need lots of keyword rich links that take months to build. Google also seems to have incorporated some sort of delay into their ranking algorithm such that it takes about 3 months at a minimum to rank well for fairly competitive terms.
Why Content Matters
If your site sucks then it is harder to get inbound links. If you have questions about any of the different aspects of site creation or promotion feel free to ask me or read books on the various topics you need help in. For your convenience (and for my learning) I have reviewed a bunch of internet and marketing related books.
Also with content quality usually matters much more than quantity. One thing I did wrong with this site is that I made a huge site before I knew enough to make a huge site.
Hardest & Most Valuable Part of the SEO Process
One of the main goals of good content is to help you with link building. Link building is the single most important part of the SEO process. It also is usually the most time consuming and most expensive part of the SEO process. Need help? Contact Clientside SEM if you need optimizing your organic search presence.

Got SEO Questions? Get Answers in Minutes NOT Days
Read the SEO Book blog today for the latest SEO tips.
Search the archives for specific posts
You may also want to ask your questions at the SEO Book community forum.