Testimonials
"I was thinking about you all day today and what a great person you are."

"I wanted to be #1...After 2 months I reached the top position for my most popular keywords."

Read More...

Above The Fold!
The SEO Book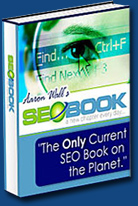 PPC Information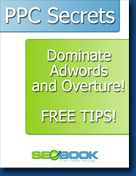 Learn more by reading PPC Blog today.
Need Links?
Need Traffic?
Use these
Free PPC Coupons
SEO Tools
WordTracker
- keyword suggeston
SEO Tools
Pay Per Click
Pay Per Click ToolBox - everything related to Pay Per Click. Includes free software trials, and account freebies (free clicks).
Link Popularity, Link Building and other Link Links
Web Site Submission Tools
for most webmasters paying for search engine submission is generally a complete wast of money.
Free manual site submit - automated submission is garbage.
Paid Inclusion - full suite of paid inclusion options
Web CEO - full service SEO software. I have not used it much, but some of my friends recommend it to do various SEO tasks.
Directory Archives - directory of directories
Roboform - can enter in your title, description, email, keywords, and payment details with a single click of a button.
Search Engine Relationship and Search Engine Popularity Tools
Search Engine Marketing Literature
Keyword Suggestion Tools
Keyword Suggestion Software
AdWord Analyzer - tool which checks Overture related terms and then returns results based on # of bidders on Overture or Google AdWords. While it is named "AdWords Analyzer," it is actually more effective for finding freebies on Overture.
It's useful for discovering the # of competitors on Google AdWords, but if you do everything correctly only how good you do it is what matters. Instead of using this software I would recommend buying a subscription to WordTracker, glancing through a thesaurus, and using a keyword list generator.
Keyword Density
I usually do not worry much about keyword density, but here are some tools.
Expand Your Keyword List (PPC)
this keyword tool allows you to create an expanded keyword list by combining all possible variables of words in different lists.
Coding Tools
Rank Checking
Tracking Software
Report Spam
report a spam result - While reporting spam may not directly influence the search engines, they use these inputs to aid their algorithmic changes. Yahoo! actively edits their search results.
Most webmasters would be better off spending time improving their sites instead of filing spam reports.
View our directory or the SEO Index for other related tools

Got SEO Questions? Get Answers in Minutes NOT Days
Read the SEO Book blog today for the latest SEO tips.
Search the archives for specific posts
You may also want to ask your questions at the SEO Book community forum.