Testimonials
"I was thinking about you all day today and what a great person you are."

"I wanted to be #1...After 2 months I reached the top position for my most popular keywords."

Read More...

Above The Fold!
The SEO Book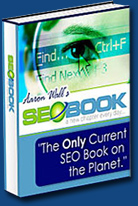 PPC Information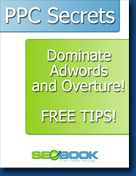 Learn more by reading PPC Blog today.
Need Links?
Need Traffic?
Use these
Free PPC Coupons
SEO Tools
WordTracker
- keyword suggeston
PPC Search Engine Toolbox
In the information age you can never know too much. The biggest problem is knowing enough without wasting time finding misinformation. For that reason here is the Pay Per Click SEO Toolbox. Below there are links which are helpful to managing Pay Per Click Accounts.
Free Pay Per Click Search Engine Secrets Report
I created a free PPC secrets ebook because I did not think there was an adequate good and free guide to PPC available on the web. There is no hard sales pitch, just good free info. It is a PDF so you need the Adobe Reader to view it. It is about 20 pages. Download your free copy today.
Sign Up for PPC Search Engine Accounts
I generally recommend only using the major PPC providers off the start. As you get to using smaller providers the percent of questionable traffic increases. Time spent managing smaller campaigns could likely be better spent making your campaigns at the major engines better.
Smaller PPC Engines:
PPC search engine tips & reports
PPC Search Engine Automatic Bid Management Software
PPC Search Engine Tracking Software & Log File Analyzers
PPC Search Engine Keyword Suggestion Tools
Other Keyword Tools
View Bids
Expand / Formatting Your Keyword List
PPC Fraud Detection / Prevention
Pay Per Click Competitive Analysis Software
Software tracks the average position and frequency of ad display on Google AdWords by randomly pinging Google. Please note that I do not believe either of these companies have a partnership with Google and if Google detects their ping patterns Google may intentionally offer bad data.
More PPC Information
go to my general PPC search engine section and explore any of the engines further, or feel free to ask me

Got SEO Questions? Get Answers in Minutes NOT Days
Read the SEO Book blog today for the latest SEO tips.
Search the archives for specific posts
You may also want to ask your questions at the SEO Book community forum.