Testimonials
"I was thinking about you all day today and what a great person you are."

"I wanted to be #1...After 2 months I reached the top position for my most popular keywords."

Read More...

Above The Fold!
The SEO Book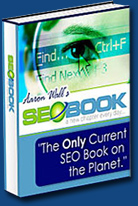 PPC Information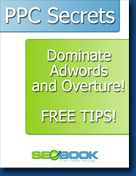 Learn more by reading PPC Blog today.
Need Links?
Need Traffic?
Use these
Free PPC Coupons
SEO Tools
WordTracker
- keyword suggeston
Effective Website Navigation
A site which is easy to navigate means exactly what it says. Easy to navigate means effective web site navigation. If a person has to look hard to find where they need to go, then they quickly lose focus. There is more reason than one to make your site easy to navigate though.
Navigation and Search Engine Spiders
Anytime a search engine crosses a page it stands a better chance to find all the others if you have a great linking structure. From all pages of your web site it is a good idea to have a link to the site map and to the home page.
Have Two Types of Navigation
There are many interesting linking structures and ideas, but a good idea is to have at least two separate routes. One for the user, and one for search engines. Most java script can not be understood by many search engines. For this reason it is important to have easy to find and easy to use links in your site navigation. Good ideas for effective web site navigation are:
Topic related hyperlinks inside the basic page text.
Placing text links to the most important pages in the footer.
Using tabs if they make sense for your site design.
Use text wherever possible.
Use breadcrumb navigation to help search engines "see" the site structure.
Breadcrumb Navigation
This site uses bread crumbs right under the tabs. People like the sense of control and seeing where they have been. Using bread crumbs also gives you a non intrusive excuse to have many keyword rich links pointing to each page of your site.
Contextual Navigation
You can always find something else to link to in the text of each page. You can have an example or a more in depth explanation. If nothing else, think what questions your user may have and answer these on these hyper links. You may not easily be able to capture all of your pages this way, but you should get most of them because ideally your topics should stream together.
Footer Text Links
Most people do not find text links at the bottom of the page offensive. Many sites have a navigation scheme on the side, but are limited as to what words they can fit in the text of side column navigation. Footer text links can allow you to use optimized text throughout your site to help search engines define what exactly different pages are about.
Using a Logo for Navigation
Having a logo does a good job of branding. Frequently the space used for a logo can be used for dual purpose. Many websites use the logo as a link to the home page (as this site does).
Site Map
Site maps do two things, they provide a convenient location for links to all of your informational pages, and they provide search engines with an easy to navigate list of your content pages.
There are a couple features that should be ignored when creating your site map. Though you want it to look pretty, frequently a user finds your site map only after your navigation has failed. You want it to load quickly and be highly functional - that is it. Your site map should not just be a list of hyperlinks either, an important addition to the list would be a small amount of text describing each link.
Call to Action
When possible another important thing is to remember to add a call to action when possible. This is covered more in depth in customer conversion. Your web site navigation should make it easy (and almost instinctive) for someone to find your desired web pages.
Navigation Conclusion
There should be multiple types of navigation on a web site. Text links are best for helping search engines determine what a page is about. Frequently on many sites one type of navigation is for users and the other is for search engines. Please remember to check out our search engine friendly design page.

Got SEO Questions? Get Answers in Minutes NOT Days
Read the SEO Book blog today for the latest SEO tips.
Search the archives for specific posts
You may also want to ask your questions at the SEO Book community forum.