Testimonials
"I was thinking about you all day today and what a great person you are."

"I wanted to be #1...After 2 months I reached the top position for my most popular keywords."

Read More...

Above The Fold!
The SEO Book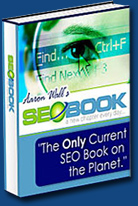 PPC Information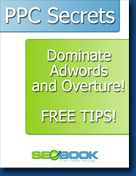 Learn more by reading PPC Blog today.
Need Links?
Need Traffic?
Use these
Free PPC Coupons
SEO Tools
WordTracker
- keyword suggeston
Search Engine Friendly Website Design
Page Title: use a different descriptive page title for each page. Make sure your primary keyword phrases for the given page are at the beginning of the page title.
Interior Linking: when generating your inner site linking it is important to use keywords in the anchor text (anchor text is the referring text or the stuff in the blue with an underline on most links). Search engines use incoming anchor text to evaluate what a page is about.
Navigation: When possible it is important to use at least one set of text links to create effective navigation for your site.
Heading: use a keyword rich heading <H1> if possible.
Subheadings: keyword rich subheadings (<H2>'s or <H3>'s) also help improve keyword density and make the page easier to scan.
File Naming: name the files words you want to list high in. separate the words using a - not a space or a _. This is not an issue worth changing your current pages over for, but is a quick way to add a small boost in relevancy in some engines.
Using Flash: The main thing that you need to remember is that flash text and other rich media sources are not always recognizable to search engines. When they are, they frequently offer little content to the search engines. If you must use flash make sure you add textual content to the pages.
Write For The User: Some people argue that the verbiage in the text around links is important also, and some think it is not since search engines are not theme based. Either way, focus on the user with your writing. You should try to have each page optimized, but optimizing text NEAR an outbound link to another page should not be a major priority on the current page. Writing text that reads well to users should help encourage more inbound links.
IMG ALT: use descriptive IMG ALT tags where applicable.
Bolding: bold or italicize important ideas. Also use bulleted lists to chop up text to make it easier to read and improve keyword density.
Meta Description: get a couple variations of your primary keyword phrases in your meta description tag.
Meta Keywords: place synonyms and misspellings of your keywords in a meta keywords tag. (Usually I am too lazy to make a meta keywords tag.)
Sequence Pages: when you have an FAQ section, or something similar that can be sequenced, provide a link from one page to the next such that the user does not have to go back to the FAQ page to go to each question.
Dynamic Pages: follow the tips to help list your dynamic pages in search engines.

Got SEO Questions? Get Answers in Minutes NOT Days
Read the SEO Book blog today for the latest SEO tips.
Search the archives for specific posts
You may also want to ask your questions at the SEO Book community forum.