Testimonials
"I was thinking about you all day today and what a great person you are."

"I wanted to be #1...After 2 months I reached the top position for my most popular keywords."

Read More...

Above The Fold!
The SEO Book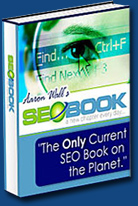 PPC Information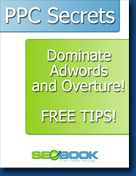 Learn more by reading PPC Blog today.
Need Links?
Need Traffic?
Use these
Free PPC Coupons
SEO Tools
WordTracker
- keyword suggeston
Meta Description Tag
The meta description tag is supported by many search engines. It is viewed as the most important meta tag, though not nearly as important as page title or page copy.
Meta Description Tags and Search Results
When you conduct a search the meta description tag is sometimes displayed below the title tag. Other than potentially being listed on search results a user will have no indication of what your description tag is. Google typically pulls a page abstract and will only list the description if it can not find adequate on page content.
While not as important as the title tag or on page copy it is still a good idea to use description meta tags. Jon Glick (of Yahoo! Search) stated that Yahoo! Search processes the meta description tag similar to page copy.
Example Search Result
Meta Description Tags - learn about the meta description tag <-- this is the title tag
Learn about the meta description tag. See examples of well written meta description tags, as well as tips on how you should write your meta descriptions.<-- this is the meta description tag (note: this could also be a page abstract; some search engines display both page abstract and the meta description)
http://www.search-marketing.info/meta-tags/meta-description.htm <-- this is the page location
Meta Description tag format:
The meta description format is as follows <META name="description" content="Learn the basics about the meta description tag. See examples of well written meta description tags.">
Meta Description Tag Tips
Important tips for good meta description tags:
use keywords in your meta description tag
try not to repeat the words overly often, but try to use multiple syntaxes of your key words
should be about 2 sentences to a short paragraph and highly descriptive (if more than 200 characters it could get truncated, but the words can still be processed if you go slightly over)
use a different meta description tag for each page, as each page is different and stands a better chance of being found if you place a good title and description on it.
Poorly Written Meta Description Tags
an exact copy of the title (the meta description should be something different than the title to draw people it)
list of keywords (the meta description should make sense and be in sentence format)
Nuclear powered Nuclear submarines with nuclear reactors from nuclear fuel. (sounds sammy, does not have enough variants of keywords. says nuclear 4 times in one sentence)
Well Written Meta Description Tags
Texas fastest growing pet community - the Dallas Pet gophers collectors club invites you to the third annual gopher fest. Bring a friend into the pet community, they are sure to go for it. Located in the heart of downtown Dallas Texas.

Why is that meta description tag good? (it has a call to action, and uses multiple versions and strings of key words..)
Meta Description Conclusion
It is generally worth the time it takes to add a meta description tag. It helps out rankings a good bit in search engines shuch as Yahoo!.

Got SEO Questions? Get Answers in Minutes NOT Days
Read the SEO Book blog today for the latest SEO tips.
Search the archives for specific posts
You may also want to ask your questions at the SEO Book community forum.