Testimonials
"I was thinking about you all day today and what a great person you are."

"I wanted to be #1...After 2 months I reached the top position for my most popular keywords."

Read More...

Above The Fold!
The SEO Book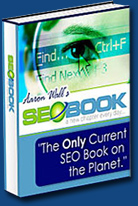 PPC Information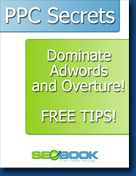 Learn more by reading PPC Blog today.
Need Links?
Need Traffic?
Use these
Free PPC Coupons
SEO Tools
WordTracker
- keyword suggeston
Customer Conversion
Traffic vs Conversions
You can write a great site for people that can never be found by the search engines or draw high traffic and not convert. Either method is not very challenging. It is much more challenging to create a site the gets traffic and converts it's visitors.
If you had to focus on site traffic or customer conversion it is much better to focus on conversions. After you get a site which is smooth and converts you can then learn how to promote the hell out of it.
Customer Conversion Tips
Capture attention: capture the attention of the customer <------ ugly colors huh! Normally you do not want to capture attention using ugly ideas, but by giving them exactly what they want.
Drive toward action: have a clear focus or goal with each page.
Sell the information: become an expert knowledge source to the customer. Be someone they can trust.
Navigation: easy navigation is a necessity.
Think ahead: it is easier to have high customer conversion if you think ahead. Try to answer whatever questions your customer may have either on the page, or using of page links.
What's In It For ME!!!: most people are selfish. It is a good idea to remind the customer of how your service will add value to his or her site (or life) .
Testimonials: customer testimonials aid your future customer conversion if they are clearly posted.
Feedback loops: make it easy to answer the customers questions. Make it easy for them to ask questions. Make access to this valued service quick and easy while remaining as personal as possible.
Make it EASY for People to do What You Want Them to do
During Howard Dean's 2004 presidential campaign they used their blog to cast a vote on whether or not their campaign should accept matching funds. After people vote they were sent to a landing page. The first day saw 100,000 voters and raised $248,000.
They looked at the vote return landing page and noticed that the donate button was at the bottom of the page. They moved it to the top of the page. On the second day another 100,000 people voted, but they raised $4,500,000.
Sell Your Customers Using Information
The internet is more of a knowledge base than a commerce platform.
Don't be Evil!
Interested people become interested customers who interact, uninformative marketing is annoying. look at this evil poorly wrote page
Ask the Customer
It is a good Idea to ask your customers did you find what you needed? This allows the customer an additional avenue to provide feedback to aid future conversions. There is a reason that "Did you find what you needed?" is asked at almost all major retail outlets.
Upsell
Would you like fries with that? It is usually easier to upsell or resell to a customer than it is to find new customers.
Tracking Customer Conversion
If you are not using customer tracking software, you do not know what is happening to your customers.

Got SEO Questions? Get Answers in Minutes NOT Days
Read the SEO Book blog today for the latest SEO tips.
Search the archives for specific posts
You may also want to ask your questions at the SEO Book community forum.