Testimonials
"I was thinking about you all day today and what a great person you are."

"I wanted to be #1...After 2 months I reached the top position for my most popular keywords."

Read More...

Above The Fold!
The SEO Book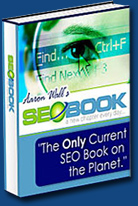 PPC Information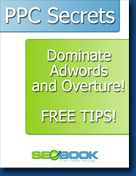 Learn more by reading PPC Blog today.
Need Links?
Need Traffic?
Use these
Free PPC Coupons
SEO Tools
WordTracker
- keyword suggeston
PPC Search Engine Script
General PPC is a Flooded Market
I will not guarantee that this is for everyone or that you have huge profits coming. There may not be much room left for regular old general PPC search engines as it is a somewhat flooded market.
Industry Specific PPC Search Engines
What there is though, is larger and larger groups of people interested in select topics. If you can not find an industry specific search engine for what your web site is about, become great and be the first to make one.
There are may industry specific price per click search engines. The niche is where you become successful in a world of opportunity.
Smarter Scripts
I have looked at hundreds, if not thousands of PPC search engines and many of them (I would say over half) use SmartSearch PPC Search Engine Script by Smarter Scripts. They have two versions of this software, and if you use the version that has links to them in it you get the software free.
I recommend trying the free version and if you like how it operates you can upgrade a few weeks or months later to the paid software that is still rather cheap. $100 is not too much to try something different, and you can get it and have it installed for way less than that.
I have not made it a large priority, but I installed a PPC search engine on this site. You can search our PPC search engine or list in our PPC search engine (please note that it gets no real traffic.
I also had the professional script installed at another site (http://www.101cigarettes.com) for example purpose. I do not actively promote the site because I feel it adds little value to the web, but it does work as a good example script. Currently its results come from SearchFeed.
HyperSeek
HyperSeek is an upscale pay per click search engine software solution. While it is expensive it has many important anti fraud features and other advanced features which make it more appealing than cheaper scripts.
Problems Promoting a Search Engine
One of the hardest thing to do on the web is to promote a search engine. To do so you will need good content or great search engine optimization to draw free traffic from top search engines.
Directories vs Search Engines
With the advent of programs such as Google AdSense it is likely you would have more fun and be able to create better profits creating content and a directory about your hobby and placing ads next to it. As long as you keep your directory focused there is no reason to believe that you can't create the best directory on the web covering that topic. Here is a list of some commonly used directory software.
External PPC Script Resources

Got SEO Questions? Get Answers in Minutes NOT Days
Read the SEO Book blog today for the latest SEO tips.
Search the archives for specific posts
You may also want to ask your questions at the SEO Book community forum.