Testimonials
"I was thinking about you all day today and what a great person you are."

"I wanted to be #1...After 2 months I reached the top position for my most popular keywords."

Read More...

Above The Fold!
The SEO Book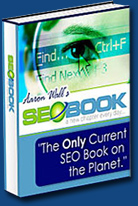 PPC Information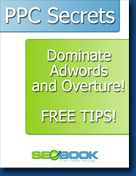 Learn more by reading PPC Blog today.
Need Links?
Need Traffic?
Use these
Free PPC Coupons
SEO Tools
WordTracker
- keyword suggeston
Large Pay Per Click Search Engines
Large PPC search engines: Provide the most broad coverage, however you pay a premium for that service. The market leaders in any field have months or years of feedback going into their accounts.
Overspend from the Start
Off the start you will need to overspend to compete. By overspending you can collect feedback quickly to understand what is effective and what is not. As you collect feedback from your account you can learn to:
Write better PPC ads.

Bid effectively.
Better track PPC campaigns.
Drop ineffective words.
Pay Per Click Management is an Ongoing Project
This process requires much labor. If you are willing to invest the time and money into building successful campaigns, then top tier price per click search engines are well worth it. New competitors with deep pockets can pop up from nowhere any day. You must be willing to commit a significant amount of time to account management. You may want to outsource your campaign if you do not have enough time.
Do it Yourself Pay Per Click
If you intend to maintain your own pay per click accounts I highly recommend reading the Google AdWords Report from Andrew Goodman ($69). Much of what I know about pay per click has came from his report.
I also have a few tips to help you set up your pay per click accounts.
Overture vs Google AdWords
Overture: Overture has listing across many portals and other websites. The Overture site itself does not power a ton of traffic.
Google AdWords: While they only supplement Google listings, many people use Google and many other portals elect to use their search services.
Rants and Raves:
Google AdWords is just about everything you could want in an advertising system. It is quick, responsive, offers free tracking, cheap to start, offers geotargeting, syndication of ads is optional...AWESOME.
Google AdWords factors clickthrough rate into click price. If you can write a more relevant ad and target it properly then you can drastically reduce cost per click prices.
Overture has a $20 minimum monthly spend. Google does not have a minimum spend.
Overture Local Match does not have a minimum monthly spend and does not require the advertiser to have a website.
Suggestion for Large PPC Search Engines
If you are going to be a success at PPC search engine marketing, the above websites will give you the distribution necessary to scale small profits into a fully functional business.
Rather than testing your ideas out on the smallest pay per click search engines it is best to start them out on the largest pay per click search engines to quickly learn whether or not your business model is functional.
Other PPC Resources
see also: mid size ppc search engines small ppc click search engines

Got SEO Questions? Get Answers in Minutes NOT Days
Read the SEO Book blog today for the latest SEO tips.
Search the archives for specific posts
You may also want to ask your questions at the SEO Book community forum.