Testimonials
"I was thinking about you all day today and what a great person you are."

"I wanted to be #1...After 2 months I reached the top position for my most popular keywords."

Read More...

Above The Fold!
The SEO Book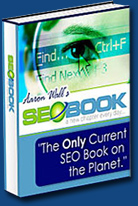 PPC Information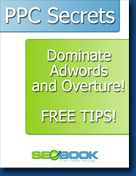 Learn more by reading PPC Blog today.
Need Links?
Need Traffic?
Use these
Free PPC Coupons
SEO Tools
WordTracker
- keyword suggeston
Search Engine Spam Check
Common Types of Spam
Linking schemes - cross linking a bunch of sites, many other types...
Doorway pages - creating pages which intend to redirect the end user to a different page
Cloaking - showing search engine spiders different content than you display to the site user
Using invisible text - white text on white background, using CSS to position text off the page, etc.
Identifying Spam
Using tools which highlight text (such as the Google Toolbar) may make it easy to spot white on white text. In depth link analysis makes spotting linking schemes easy. If the page cache does not even resemble what the page looks like to you then they are likely cloaking.
With a bit of research you can find about any type of spam and turn in your competitors if they are spamming.
Is it Worth the Effort to Turn in Spam?
Usually it is not. The best way to beat people listing above you is to build a better resource and build more keyword rich links into your site.
It does not hurt to report the spam you found to the major search engines (such as Google & Yahoo! Search), but worrying about competitors sites that are spamming is often misfocused energy.
Google usually does not do much with spam reports, but Yahoo! sometimes does. If you see one of your competitors blatantly spamming it takes less than 5 minutes to turn them in. All you can do is turn them in and its up to the search engines if they want to do anything.
If you work hard building your site and build tons of links into it from many different sites eventually your site will rank well.

Got SEO Questions? Get Answers in Minutes NOT Days
Read the SEO Book blog today for the latest SEO tips.
Search the archives for specific posts
You may also want to ask your questions at the SEO Book community forum.