Testimonials
"I was thinking about you all day today and what a great person you are."

"I wanted to be #1...After 2 months I reached the top position for my most popular keywords."

Read More...

Above The Fold!
The SEO Book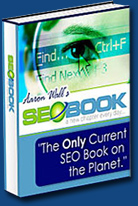 PPC Information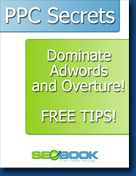 Learn more by reading PPC Blog today.
Need Links?
Need Traffic?
Use these
Free PPC Coupons
SEO Tools
WordTracker
- keyword suggeston
Future of Search Engines
Image Scanning Search Engines
A friend is working on making a program and a searchable database of old newspapers from microfiche. It is obvious that scanning images is one of the major upgrades that will soon be possible with search engines. In early 2004 they released Princeton's 3D search engine which can search for images like what you sketch.
Streaming Media Search Engines
Singingfish is already offering streaming media searches. Interesting today, but it will be boring in a few years. There is nothing exciting about connecting information to hungry minds if you are not interesting. I am not actively involved in the future of search engines, but I am interested and excited to say the very least.
Voice Recognition & Emotion Understanding
In the future computers will become more understanding of speech and applying the appropriate words to the sounds we make. Dragon Naturally Speaking already does a good job of this. Also as the information revolution is taking place it will become so that computers can be more able to understand emotion and what we are really "searching" for. Eventually advanced monitoring biofeedback monitoring equipment will aid us in discovering our true passions and what we want (what we are searching for).
Better Resources to Search Through
Currently programs like Google AdSense encourage the creation of solid content. This will improve the quality of content which search engines are able to find - currently one of their limiting factors.
Search Engines Indexing Dynamic Content
On the technical back end computers also need to be able to follow links and dynamic content with greater ease. This will require the design and implementation of ultra premium spider monitoring software. Of course the whole time everything else is occurring collecting information about the world around us and the worlds around it will only become easier. As the pool of data continues to grow so will the quality of distributed computing.
Yahoo!'s content acquisition program aims to index more dynamic content.
Self Fulfilling Prophecies
As a marketer who enjoys spreading messages and watching how messages spread, I am both intrigued and frightened by the focus on efficiency and conversion which search has brought about. Of course things being more efficient is a great thing, but I also fear that the attention and content aggregation brought about by search - and how we interface with language will cause many people to buy into biased poor marketing messages or self fulfilling prophecies that may hurt people more than help them.
I also believe that many of the most efficient and most profitable business models are also some of the sleaziest, so it sort of fills me with a bit of fear thinking about how much search pushes efficiency. That what is really cheap is often so because there are hidden costs. But that fault is not one of search, but one of capitalism in general.
While I would hope that technology makes it easier to learn and shortens up inequality I am not so sure that will be the case, especially since Google agreed to self-censorship in China, and many of the largest businesses already dominate a large portion of the search landscape.
Evil Governments
The only thing that could possibly stop mans progression is mans fear and associated consequences. Total information awareness is the death of humanity and mankind. While we progress it is important that we minimize the effects of world governments at oppressing freedom and most importantly the freedom of speech. I fully support the blue ribbon campaign.


Got SEO Questions? Get Answers in Minutes NOT Days
Read the SEO Book blog today for the latest SEO tips.
Search the archives for specific posts
You may also want to ask your questions at the SEO Book community forum.