Testimonials
"I was thinking about you all day today and what a great person you are."

"I wanted to be #1...After 2 months I reached the top position for my most popular keywords."

Read More...

Above The Fold!
The SEO Book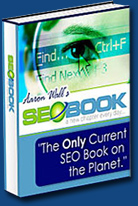 PPC Information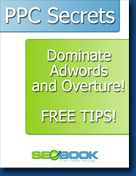 Learn more by reading PPC Blog today.
Need Links?
Need Traffic?
Use these
Free PPC Coupons
SEO Tools
WordTracker
- keyword suggeston
Common Search Engine Misconceptions
How Powerful are Search Engines?
One out of every three people believe that the first result received from a search engine is the most relevant for what they were looking for. If you rank well for your keywords it can give you broad distribution and a nice brand lift.
Secrets to SEO
There is no secret to SEO, other than to organize a site full of content logically & to build tons of keyword rich links into it. It is easier to create an idea that wants to spread than it is to spread a bad idea.
Search Engine Conspiracy against Me
Most search engines still provide a free inclusion via a site submission form or by picking your site up from external links pointing at your site.
Search engines want to index as much quality content as possible since it is their claim to fame. After all, the only product a search engine has is your quality content. The more quality sites and pages in a search engine index, the easier it is to provide top quality search results.
Keyword Density IS ALL I NEED!!!!!
Since anybody can write a page and place a keyword phrase on it a ton of times search engines do not want to reward this technique.
Keyword density is like a bell curve, you can only go so high and then more keyword density does not help and can actually hurt you.
The primary driver behind most search engine algorithms is link reputation. You will want to create content that is good enough for people to want to read it and good enough that people will want to link to it.

Got SEO Questions? Get Answers in Minutes NOT Days
Read the SEO Book blog today for the latest SEO tips.
Search the archives for specific posts
You may also want to ask your questions at the SEO Book community forum.