Testimonials
"I was thinking about you all day today and what a great person you are."

"I wanted to be #1...After 2 months I reached the top position for my most popular keywords."

Read More...

Above The Fold!
The SEO Book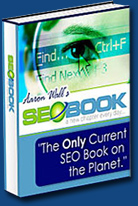 PPC Information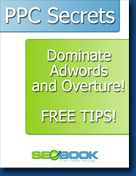 Learn more by reading PPC Blog today.
Need Links?
Need Traffic?
Use these
Free PPC Coupons
SEO Tools
WordTracker
- keyword suggeston
Teoma
No B/S Teoma SEO Tips:
Teoma is a clustering search engine. To rank well in their search results you will need to have many links pointing into your site from other pages / sites covering the same topic as your page / site.
In a competitive category your site will not even be included in the subset of search results unless some sites from within your topical community link into your site.
For competitive search terms Ask Jeeves (which is the leading site using Teoma) shows many Google AdWords ads above the search results, which means the odds are rather low that even a top ranking site will get many clicks.
I do not optimize specifically for Ask Jeeves / Teoma but figure that over time I will rank well for them if I create a quality resource and optimize for Google.
About Teoma
Teoma was founded in April 2000 by a group of computer scientists from Rutgers University. Teoma means "expert" in Gaelic, and their goal was to provide an expert way of understanding the web (in subject-specific communities). Teoma was launched in April 2001 and quickly snapped up by Ask Jeeves in September 2001.
Teoma's Search Technology
Teoma is a clustering search engine. Teoma provides normal search results; supplements them with the option to refine or narrow your search; and a third grouping called resources.
The resources group are sites which are considered hubs. The top ranking regular search results are considered authority sites. A hub links to many authorities on the same topic. An authority has links from many various hubs and authority sites.
While the definitions may seem somewhat circular and perhaps confusing it is easier to visualize the core technology if you think of communities away from the web.
Practical Example of Hubs and Authorities
Imagine an island. Maybe that island has a newspaper and a chamber of commerce. The above sites would likely be considered topical hubs about that island since they would link to many resources on that island. Likely many sites on the island would link into the official information resources and make those sites authorities as well.
Perhaps you have a ferry which go two and from that island. The ferry website would be a topical authority on that island because many sites on that island would link into the ferry site when giving people directions on how to get to their island.
Want to Know More About Hubs and Authorities?
Teoma explains their three result method for your search at their about Teoma basic search tips page. Here is a PDF by Mike Grehan describing the Teoma HITS system.
Try Teoma Search
Teoma Index Size & Distribution
Ask Jeeves's Teoma has a smaller search index than Yahoo! or Google, but they aim to work on improving spidering more frequently and increasing their index size throughout the remainder of the year.
Between Ask Jeeves and Teoma they have a web reach of over 25% (Neilson Netratings). With their recent purchase of Excite, MyWay, and Iwon they have doubled their US search distribution to 6 - 7% of total search.
Teoma Backlink Checking
Most major search engines allow you to check some of the links pointing at your website. Teoma does not make this possible because they do most of their link processing after the searcher searches and they collect much of their linkage data from a small part of the web for each search.
Teoma Toolbar & Goodies
Much like many of its leading competitors Teoma offers a search toolbar. In addition there are many cool features available on the Teoma advanced features page.
Teoma Tools & Specifications:

Check Incoming Links
http://www.mysite.com (you can't really check 100% because they do link processing on the fly after their search user searches)
Pages Indexed
mysite.com site:www.mysite.com
Spider Name
teoma_agent1
Directory size
over 2 billion resources
US Distribution
~ 5% of web search
(Teoma + Ask Jeeves)
(eventually Excite + IWon + MyWay may be powered more from Teoma technology)
Report spam to Teoma
How to list in Teoma:
free: get links from sites in the Teoma index or DMOZ paid ads: Google AdWords
Teoma provides results for:
Ask Jeeves - Teoma provides the primary search results for Ask Jeeves.
InfoSpace - provides data to the meta search engine
HotBot - one of the 3 search options
Direct Hit - Mirror of Teoma. Direct Hit was the search company Ask Jeeves purchased before they purchased Teoma.
ILOR - a software tool engineering company
and Teoma - itself
Ask Jeeves also recently purchased IWon, Excite, MySearch, and MyWay. It is uncertain how they will use these properties, but one can presume some of them will be powered by Teoma.
Teoma is Powered by:
Teoma - primary search results are powered by itself
Google AdWords - paid ads
DMOZ - web directory results

Got SEO Questions? Get Answers in Minutes NOT Days
Read the SEO Book blog today for the latest SEO tips.
Search the archives for specific posts
You may also want to ask your questions at the SEO Book community forum.