Testimonials
"I was thinking about you all day today and what a great person you are."

"I wanted to be #1...After 2 months I reached the top position for my most popular keywords."

Read More...

Above The Fold!
The SEO Book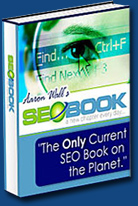 PPC Information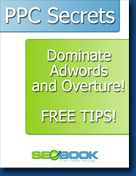 Learn more by reading PPC Blog today.
Need Links?
Need Traffic?
Use these
Free PPC Coupons
SEO Tools
WordTracker
- keyword suggeston
MSN Search
No B/S MSN Search SEO Tips:
Many low level SEO techniques are heavily effective in MSN. In other words, currently their search product is rather easy to spam. Things like keyword rich domain names and keyword rich page copy and lots of keyword rich anchor text links from unthemed pages can help a site drastically improve their rankings in the current MSN.
MSN will surely greatly improve their search technology a ton throughout the remainder of the year.
About MSN
MSN beta began heavy scalability testing on the 21st of January 2005. They officially fully switched from Yahoo! to their own search technology on February 1st.
MSN powers their own search technolgy and has their PPC ads provided by Overture. The top two PPC ad slots may also be sold internally by MSN advertising.
Try MSN Search
MSN Tools & Specifications

Incoming Links (Beta)
link:www.mysite.com
without internal links (Beta)
link:www.mysite.com -site:www.mysite.com
Spider Name (Beta)
MSNBOT FAQ's
MSN Search Size (Beta)
5 billion documents
MSN provides results for:
MSN officially launched on February 2, 2005. It powers MSN and MSN content sites.
MSN is powered by:
MSN - primary search provider
MSN Advertising - primary ad provider (for extremely competitive commercial terms - minimum ad spend of $75,000/ yr)
Overture - provides secondary ads which list below the MSN in house ads
See Also:

Got SEO Questions? Get Answers in Minutes NOT Days
Read the SEO Book blog today for the latest SEO tips.
Search the archives for specific posts
You may also want to ask your questions at the SEO Book community forum.