Testimonials
"I was thinking about you all day today and what a great person you are."

"I wanted to be #1...After 2 months I reached the top position for my most popular keywords."

Read More...

Above The Fold!
The SEO Book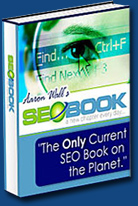 PPC Information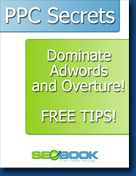 Learn more by reading PPC Blog today.
Need Links?
Need Traffic?
Use these
Free PPC Coupons
SEO Tools
WordTracker
- keyword suggeston
Singing Fish
SingingFish is a search engine that was sold to AOL by Thompson. They specialize in categorizing a database of searchable streaming data sources. Though this has not picked on in a big way yet, one would have to be extremely short sided not to see the opportunity that exists on this platform.
The sole question that remains is weather Singing Fish will be able to maintain a great steak in this market or if a larger company, or maybe even a new breed will take their place. Soon we will see, but until the the fish will be singing at Singing Fish. (so I like cheesy lines...)
I am almost sad to see Singing Fish as part of AOL as I think they have not put adequate resources into the Open Directory Project. We shall see if they keep this search technology serious or let it degrade.
Try Singing Fish
As the internet becomes more and more fragmented it will become harder and harder for search engines to organize the information. Coming up with a great new way to index the entire internet is an extremely hard proposition. These subject specific search engines can do an extremely good job at their niche though.

Got SEO Questions? Get Answers in Minutes NOT Days
Read the SEO Book blog today for the latest SEO tips.
Search the archives for specific posts
You may also want to ask your questions at the SEO Book community forum.