Testimonials
"I was thinking about you all day today and what a great person you are."

"I wanted to be #1...After 2 months I reached the top position for my most popular keywords."

Read More...

Above The Fold!
The SEO Book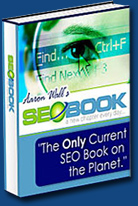 PPC Information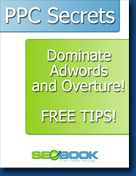 Learn more by reading PPC Blog today.
Need Links?
Need Traffic?
Use these
Free PPC Coupons
SEO Tools
WordTracker
- keyword suggeston
Specific Page Focus
Why The Internet is Cool
The advantage over the internet compared to other knowledge distribution channels is that thoughts can be hyperlinked. We can look at something broad and drill down to the specific information we need. Being able to jump thoughts to exactly what interests us save thousands of hours of research.
Different Focus & Keywords for Each Page
Each page is its own and unique page. No two pages are exactly the same and you should not want to compete with yourself. You should find a specific page focus for each page. A single page that is 12 pages long is typically good for nobody. There is almost no way you can talk about any Specific topic for 12 straight pages. In addition web readers hate long boring text.
Maintain Focus
But I know a bunch about...
If this is what you are saying then I have a few specific arguments focused against a 12 page long web page. Lets pick an arbitrary topic like the US justice system or jails in general. Maybe you do not like the jail system and here are the reasons why ...
I ask if you consider yourself an expert, shouldn't each specific page be about a specific topic? If you are an expert can you get all of your specific content on one specific page and still maintain focus? NO!
Books VS Web Sites
When people structure books or long reports they usually use roman numerals and letters to break down the topic. Often times the chapters have subtopics too.
Effect on Search Engines
Would you rather have one or twelve chances to list high for your select terms? By splitting a general topic into a dozen more unique and more tightly focused topics you get many more chances to rank well. In addition the competition level for those unique terms will be much lower than the competition for generic terms.
Specific Breakdown Example
Instead of listing high for "US Justice System" or "US jails" you can still maybe keep this page as a directory and then talk about other issues on sub pages.
Maybe you could have a specific page focused on racial inequalities.
You can have a specific page focused on how dumb or ineffective the war on drugs is, with specific breakdowns in short and long term direct and indirect costs.
You can have a specific page focused on how the US justice system has unjustly caused grief in your life.
Links Provide Choices
The internet is about interactivity. Once you have a set of eyeballs (that you can catch on any of these 12 specific pages) it is up to you to loose them. They will keep reading and skip around if you are providing them with good content and choices, but most people will not scroll through a 12 page document. Not even the few that find it, lest we forget the search engines will not be as interested as it surely will not have specific page focus.
Page Length & Keyword Selection
note: specific page focus can be obtained for more than one keyword at a time, but it should certainly be optimized for no more than about 3 or you start to loose focus. a good page length is about 200 - 800 words (depending on various factors). Some search engines like shorter pages and some like longer. If you focus the page well enough and structure it properly than it can get top rankings at many different search engines.
To see some of the tips about how to improve the keyword density of a page view my page about how to "optimize each web page."

Got SEO Questions? Get Answers in Minutes NOT Days
Read the SEO Book blog today for the latest SEO tips.
Search the archives for specific posts
You may also want to ask your questions at the SEO Book community forum.