Testimonials
"I was thinking about you all day today and what a great person you are."

"I wanted to be #1...After 2 months I reached the top position for my most popular keywords."

Read More...

Above The Fold!
The SEO Book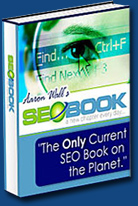 PPC Information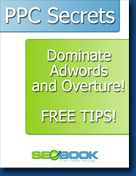 Learn more by reading PPC Blog today.
Need Links?
Need Traffic?
Use these
Free PPC Coupons
SEO Tools
WordTracker
- keyword suggeston
Domain Names & File Names
Keyword Rich Domain Names
There are two sides to the domain issue. If you have an original domain name then it is wonderful for marketing. If you have a domain name which is keyword rich, it is usually easier to get incoming links with those words in the links. Some sites link to the exact domain name. Other people say that you should have a brandable domain name and not worry about keywords.
Why Domain Names are Important in SEO
Many people will link to your sites using your domain name or the words inside it. Many search engines have their algorithms primarily driven by the text in inbound links.
Many directories will only list your official site name, so those links will be far more powerful if your site name has your primary keywords in it.
My Domain Names
I believe that if you are creative you can get a domain name that is both keyword rich and exceptionally brandable. In the middle of 2003 I bought the domain name seobook.com to post my blog and SEO book on. The domain name was short, brandable, and keyword rich. If you put enough time into picking a good domain name then you may be able to get all three.
Branding is often the difference between extreme richness and failure on the internet. It is worth the time it takes to come up with a great name that really relates to your brand.
Dashed Domain Names
In the past these were huge for SEO. They no longer are. If you think hard enough you can usually get a domain name without dashes. The excessive use of dashes in your domain name hurts the ability to brand it. A few dashes may not hurt you that much, but it is of my personal opinion that creativity can allow you to get short, brandable, and keyword rich domain names without using dashes.
Sites using more than a few dashes in the domain name may receive a ranking penalty by search engines since that is a typical technique many "spammers" align by.
File Path Naming
The naming of the individual files is far less important than the domain since few people are going to type a big long name in, and few sites link using URL as the hypertext. The shorter you keep your file paths, the better. Long file paths often get broken in emails and other data transmission types.
Keywords in File Paths
You may want to list a few keyword phrases in the file name. To do this you create directories named "wordA"-"wordB" and files named "wordC"-"wordD." Looking in your address bar you will be able to see how I did this page.
Underscores VS Hyphens
Please note that GoogleGuy (a Google rep) has stated on Webmaster World that a-b is detected as two separate words, whereas a_b is detected as a single word.
Upper Case VS Lower Case File Paths
Some directory scripts do not handle upper case letters. People also sometimes forget to capitalize portions of the file path. It is best to use lower cased file paths.
DMOZ & File Paths
Another good deal with naming inner pages properly is that if your inner pages get listed in DMOZ (most sites do not get listed in DMOZ), these words will also help aid in pulling in other DMOZ search results (when the often broken DMOZ search is functional).
File Name & Site Name Conclusion
Getting keywords in your domain name will help inspire inbound links with those keywords in them. It is worth taking a long time to decide on a brandable domain name which hopefully has your keywords in it.
Generally it is not worth it to change file paths for the exceptionally small effect they have on ranking, but when making new files you should name them with their keywords in the file path.
Domain Name Articles

Got SEO Questions? Get Answers in Minutes NOT Days
Read the SEO Book blog today for the latest SEO tips.
Search the archives for specific posts
You may also want to ask your questions at the SEO Book community forum.