Testimonials
"I was thinking about you all day today and what a great person you are."

"I wanted to be #1...After 2 months I reached the top position for my most popular keywords."

Read More...

Above The Fold!
The SEO Book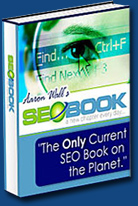 PPC Information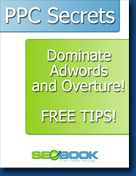 Learn more by reading PPC Blog today.
Need Links?
Need Traffic?
Use these
Free PPC Coupons
SEO Tools
WordTracker
- keyword suggeston
Successful Search Engine Marketing Steps
While the only defined beginning is when you make the choice, there is no defined end to search engine marketing. The web is continuously growing and promoting a website is a full time job.
Discuss goals with potential SEM service purchaser. Provide basic SEO details and explain typical conversion rates, reasonable expectations, timeframe and targeting.
Website analysis: look for major search marketing flaws such as frames and dynamic content. Advise web sites of some of the fair practices and how to make SEO more functional with their web site.
Submit web site to major search engines.
Traffic research - view traffic details for web site.
Keyword research - determine target keywords and keyword phrases.
View competing web properties - we check to see every integral detail to how the leading competitors achieved their rankings.
Clean up code, advise creation of and create additional content where possible to capture the target audience ( this included the creation of a custom site map and custom in site web directory if necessary).
Focus and target site for keywords (including page title, meta tags, internal links, and page copy).
Submit web site to directories - create highly relevant listings in the major directories for the optimized web site.
Build a linking campaign - trade reciprocal links with like sites, submit press releases, buy and rent relevant one way inbound links.
Monitor web traffic, site rankings, and customer conversion - this verifies that our services worked properly.
Repeat above steps as necessary to achieve and exceed desired goals.
The one step that is left off the above list is the most important step: communication. We communicate with our customers throughout the SEO process until they are satisfied with the result. Communication is a necessary part of every step, and updates are given regularly. Our first communication starts today whey you Contact Us.
Please note that I am limited in the number of clients I can take on at any time and most of the time I am all booked up. If you are not looking to pay thousands of dollars for SEO services I can offer you affordable SEO consultation.

Got SEO Questions? Get Answers in Minutes NOT Days
Read the SEO Book blog today for the latest SEO tips.
Search the archives for specific posts
You may also want to ask your questions at the SEO Book community forum.