Testimonials
"I was thinking about you all day today and what a great person you are."

"I wanted to be #1...After 2 months I reached the top position for my most popular keywords."

Read More...

Above The Fold!
The SEO Book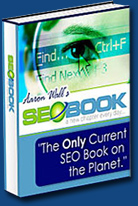 PPC Information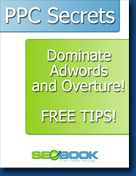 Learn more by reading PPC Blog today.
Need Links?
Need Traffic?
Use these
Free PPC Coupons
SEO Tools
WordTracker
- keyword suggeston
LookSmart & Zeal Directories
LookSmart
LookSmart is really not so much a directory anymore and is more of a pay per click search engine.
LookSmart was considered one of the most valuable directory on the web. To promote the growth of their directory while remaining economically healthy LookSmart decided to split their directory submissions into two categories. The first LookSmart category is their Looklinstings. LookSmart allows customers to pay per click to get your site listed as a sponsored result for searches. The second LookSmart category is their non commercial category, which allows you to submit non commercial sites for free through Zeal. LookSmart does not generate a considerable amount of traffic within itself, but generates a large share of traffic thanks to other portals using the LookSmart directory to aid search results.
LookSmart Looklistings
LookSmart Looklistings are a good idea for small businesses that have a good profit margin and unique items to sell. The initial account setup fee is $20, which is usable in credits for cost per click advertising similar to Overture and Google AdWords. Advertisers pay for placement in a keyword auction.
Personal LookSmart Experience
I tried using LookSmart on a smallish campaign at the beginning of November 2004. My LookSmart campaign experienced a 95% bounce rate and was sending me over twice as much traffic as Overture was.
Please note that Overture has a much larger distribution network than LookSmart does so the volume of traffic and bounce rate really indicates how low quality the LookSmart traffic was.
TALK ABOUT WASTING MONEY ON LOW QUALITY TRAFFIC :(
*Bounce rate is when visitors click to your site and then leave without viewing any pages other than the landing page. My LookSmart bounce rate made me feel rather stupic
The LookSmart partner network includes Lycos, WiseNut, RoadRunner, Search.com, InfoSpace, and many low quality partners.
The recent move to bidded click through prices may help LookSmart gain additional distribution, but the loss of MSN (~2/3 of their distribution) hurt their pull power.
Zeal
Zeal is in a sense a back door into the LookSmart directory. Non commercial sites can list pages in the Zeal directory, but even if you are a business you should still be able to submit pages of a well developed site into Zeal. Any well developed site should have some value added service which is provided free to the end user. These information pages which make a great addition to your site can find their way into the Zeal directory, which in turn is added to the LookSmart directory. To submit sites to Zeal, you have to study for and take a quick 20 question exam. Some people find it hard to pass and others easy. If after a few attempts you can not pass the quiz, send me your Zeal listing information and I will submit it for you if it is a valuable non commercial resource.
LookSmart Philosophy
LookSmart believes in the power in numbers idea. This could best be seen by realizing that many of their directory listings come from Zeal by associate editors who are not even employed by LookSmart. Also, LookSmart has purchased a distributed computing program, Grub,which it aims to use distributed computing to provide the webs most fresh and relevant search results. I of course had to see the Grub program so I downloaded it. The worm is interesting, as is the screen saver.
LookSmart has considered the 250,000 link barrier a significant achievement by the Zeal directory. Using it's simple model the Zeal directory has became one of the fastest growing web directories.
Future Prospects for LookSmart
LookSmart lost Microsoft as a partner (about 2/3 of their revenue) at the beginning of 2004. LookSmart has done little to advertise the Wisenut search engine, which will need to become more popular for LookSmart to pay for its cost. LookSmart has began to use Wisenut (versus Inktomi) to back up its web listings. In addition, it is important to note that Yahoo's acquisition of AltaVista and AllTheWeb (via Overture) has left LookSmart with something to be desired. The LookSmart revenue model may soon go south if they can not start generating more of their own traffic. It would make great sense for LookSmart to promote its own products within the Zeal community more, but I have not really noticed any significant cross promotion. The recent change in pricing to a keyword auction model was extremely smart for the future success of LookSmart.
For them to be really successful they should make the directory free for all listings and just sell the ads...Then webmasters would at least give them possitive word of mouth advertising at least. They need help from somewhere.
LookSmart Directory Resource Websites

Got SEO Questions? Get Answers in Minutes NOT Days
Read the SEO Book blog today for the latest SEO tips.
Search the archives for specific posts
You may also want to ask your questions at the SEO Book community forum.