Testimonials
"I was thinking about you all day today and what a great person you are."

"I wanted to be #1...After 2 months I reached the top position for my most popular keywords."

Read More...

Above The Fold!
The SEO Book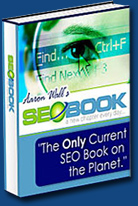 PPC Information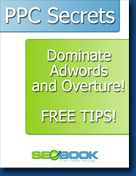 Learn more by reading PPC Blog today.
Need Links?
Need Traffic?
Use these
Free PPC Coupons
SEO Tools
WordTracker
- keyword suggeston
SearchFeed
About SearchFeed
As it would sound by its statement SearchFeed provides "or feeds" many searches on smaller web sites. While they do lack many of the major relationships that some other price per click search engines have, SearchFeed has many partners on a variety of websites.
SearchFeed does have listing across a wide variety of web sites, but many of these sites are very small. For some advertisers that is a positive, and for some advertisers that is a negative. Any search property which obtains most of its searches through small 3rd party web sites is hard to evaluate and place an intrinsic value on.
I have heard both wonderful and bad things about SearchFeed. I would recommend monitoring return on investment closely with each listing across each search engine.
Example SearchFeed Partner Site
http://www.101cigarettes.com is a pay per click cigarette search engine which is primarily driven by SearchFeed.
Try SearchFeed
If you span across multiple price per click search engines it is a good idea to track the investments you have made to see which engines are investments, and which are just money spent.
SearchFeed Details

minimum CPC

.01

cost to open an account

$25

promotional specials

none

monthly minimum

none

time to set up an account

1-2 days

web reach

limited

sign up for a searchfeed account
Suggestion for SearchFeed
It is very easy to become a SearchFeed partner, so the click quality can vary widely. I would recommend staying with the larger search engines (Google AdWords & Overture) off the start. Many small Pay Per Click scripts are easily fed by SearchFeed. With developments of such a thing as clicking agents I would be hesitant to diversify too widely. SearchFeed does have patent pending software to fend off fraudulent clicks, but another thing that can hurt click quality is that people can embed a keyword selection in a static link. Static links or contextual advertising are not as powerful as active searches for the same keywords.
Category:
See also:

Got SEO Questions? Get Answers in Minutes NOT Days
Read the SEO Book blog today for the latest SEO tips.
Search the archives for specific posts
You may also want to ask your questions at the SEO Book community forum.