Testimonials
"I was thinking about you all day today and what a great person you are."

"I wanted to be #1...After 2 months I reached the top position for my most popular keywords."

Read More...

Above The Fold!
The SEO Book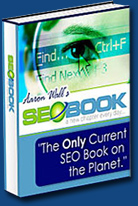 PPC Information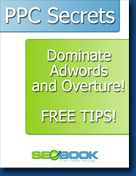 Learn more by reading PPC Blog today.
Need Links?
Need Traffic?
Use these
Free PPC Coupons
SEO Tools
WordTracker
- keyword suggeston
Search123
About Search123
Search123 is a mid sized player in the cost per click search engine game. Search123 was acquired by ValueClick in a deal worth $5 million. With ValueClick being an advertising agency they may start to integrate some of their services into Search123. Time will tell if Search123 changes focus.
Search123 Partners
Some members of the Search123 search distribution partner programs are: NetZero, Juno, WebDesk and Everyone.net.
Try Search123
If you span across multiple price per click search engines it is a good idea to track the investments you have made to see which engines are investments, and which are just money spent.
Search123 Details

minimum CPC

.05

cost to open an account

$25

promotional specials

none

monthly minimum

none

time to set up an account

fast

web reach

limited

sign up for a Search123 account
Suggestion for Search123
I recommend using Google AdWords or Overture before trying other pay per click search engines. If you have grand success with either of the two major pay per click search engines then you may want to extend your campaign out to include FindWhat, Search123, Kanoodle, Enhance Interactive, and a few of the other mid sized pay per click search engines.

Got SEO Questions? Get Answers in Minutes NOT Days
Read the SEO Book blog today for the latest SEO tips.
Search the archives for specific posts
You may also want to ask your questions at the SEO Book community forum.