Testimonials
"I was thinking about you all day today and what a great person you are."

"I wanted to be #1...After 2 months I reached the top position for my most popular keywords."

Read More...

Above The Fold!
The SEO Book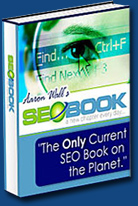 PPC Information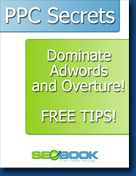 Learn more by reading PPC Blog today.
Need Links?
Need Traffic?
Use these
Free PPC Coupons
SEO Tools
WordTracker
- keyword suggeston
FindWhat
About FindWhat
FindWhat was second only to Overture until Google AdWords became a major player in the PPC arena. If you are listing in highly competitive words you will notice that FindWhat usually has a deep discount to those prices on Overture for the same terms. Granted, Overture has a more broad user base and affiliate network, but FindWhat is still a great source of PPC traffic.
In Jan 2004 FindWhat enabled Intellimap distribution (which is similar to the broad match option of Google AdWords) In addition FindWhat has many great account admin features such as:
Campaign Scheduler - allows you to say when your account should be on or off.
AdAnalyzer - determines the ROI of your ads.
FindWhat Tools
Tool compares prices at many of the small to medium sized pay per click search engines.
Try FindWhat
FindWhat Merges With Espotting
ON Feb. 9, 2004 FindWhat acquired Espotting, which is known as one of the European leaders in pay per click advertising. Both companies were rapidly loosing market share to Overture and Google AdWords They hope to gain strength by combining their customers and user base to gain market share through cross promotion.
If you span across multiple price per click search engines it is a good idea to track the investments you have made to see which engines are investments and which are just money spent.
FindWhat Details

minimum CPC

.05

cost to open an account

$25

promotional specials

none

monthly minimum

none

time to set up an account

fast

web reach

large

Sign up for a FindWhat account
Suggestion for FindWhat
I would still recommend trying Google AdWords and Overture first, but FindWhat is probably one of the few exceptions to the rule where opening an additional account (beyond Google AdWords and Overture) is worth the added required resources.
Many top SEO experts do not consider FindWhat to be a top tier or second tier pay per click search engine, but consider it to be in between. FindWhat has the largest distribution level of any of the mid sized pay per click search engines.
Category:
See also:
FindWhat also owns (external links):

Got SEO Questions? Get Answers in Minutes NOT Days
Read the SEO Book blog today for the latest SEO tips.
Search the archives for specific posts
You may also want to ask your questions at the SEO Book community forum.