Testimonials
"I was thinking about you all day today and what a great person you are."

"I wanted to be #1...After 2 months I reached the top position for my most popular keywords."

Read More...

Above The Fold!
The SEO Book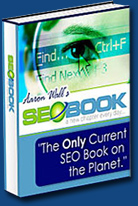 PPC Information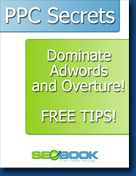 Learn more by reading PPC Blog today.
Need Links?
Need Traffic?
Use these
Free PPC Coupons
SEO Tools
WordTracker
- keyword suggeston
Who Offers Website Paid Inclusion Programs?
Why Most Paid Inclusion Programs are a Waste of Money
Many search engines offer paid inclusion programs but most of them are not worth paying for. Few search engines which drive a ton of traffic offer paid inclusion.
There are some benefits to paid inclusion programs, but generally most of them are not worth paying for. In fact I do not recommend any search engine paid inclusion program to most webmasters.
Who Offers Paid Inclusion?
Excite and Infospace have a paid inclusion program offered by Enhance Interactive. This allows 48 hour re indexing of your pages you list and they also have volume discount if you want to list multiple pages from your site. I do not recommend this service since listing in other major search engines will get you a free listing anyway.
Overture Site Match - this program essentially replaced the AltaVista, Inktomi, and AllTheWeb paid inclusion programs. I do not recommend paying for inclusion through the Overture Site Match program for most sites because the recurring fees can get expensive.
Directory Paid Inclusion Programs
Directory paid inclusion programs are often worth their weight in gold. Many directories provide one way links into your website for a one time fee of $50 or less. Many of the directories offering paid inclusion provide static text links which can help improve your search engine rankings.
Yahoo!'s Directory offers express review in one week for $299 for commercial sites. Free sites may get included into the Yahoo! Directory free. Yahoo! also charges annual listing fees for sites included in their directory.
Pay Per Click Search Engines
Many search engines offer a cost per click advertising. Using pay per click search engines can allow you to receive top web listings nearly immediately.
Pay per click ads are generally displayed off to the side or in a colored box. Even if you rank well in a search engine an additional listing in the pay per click ads helps build trust and control your branding message.

Got SEO Questions? Get Answers in Minutes NOT Days
Read the SEO Book blog today for the latest SEO tips.
Search the archives for specific posts
You may also want to ask your questions at the SEO Book community forum.