Testimonials
"I was thinking about you all day today and what a great person you are."

"I wanted to be #1...After 2 months I reached the top position for my most popular keywords."

Read More...

Above The Fold!
The SEO Book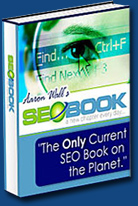 PPC Information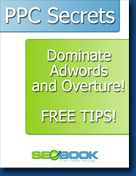 Learn more by reading PPC Blog today.
Need Links?
Need Traffic?
Use these
Free PPC Coupons
SEO Tools
WordTracker
- keyword suggeston
AllTheWeb
No B/S AllTheWeb SEO Tips:
AllTheWeb is owned by Yahoo! and is powered from the Yahoo! Search index. AllTheWeb does have its own search algorithm, but does not power enough search to where I actively optimize specifically for AllTheWeb.
About AllTheWeb
AllTheWeb was launched in 1999 as a product showcase for the enterprise search company Fast. As the search technology improved, it became clear that AllTheWeb itself was a quality search product. AllTheWeb failed to develop a strong brand the way Google did, and Fast wanted to focus their efforts on enterprise search. In April of 2003 Overture purchased AllTheWeb.
AllTheWeb was known as one of the first standards friendly search engines and had many useful advanced search features. Yahoo! discarded many of the AllTheWeb advanced search features after they purchased Overture.
Lycos (powered by LookSmart & AllTheWeb) likely draws more traffic than AllTheWeb does.
Try AllTheWeb
About AllTheWeb Search Results
To list well in AllTheWeb it is important to use appropriate keywords throughout the page copy and especially in the page title. Search for the term you want to list well in and look at the top non sponsored results. Try to emulate the keyword density of the top few while still writing copy that is primarily intended for human eyes.
All search engines are placing a certain portion of their relevancy on links, so as with all major search engines links are also important. For non competitive phrases you can rank well based on page copy, but as the terms get more competitive you need more links.
AllTheWeb search results also provide a refine your search enhancement and have Overture sponsored listings at the top and bottom of the search results.
AllTheWeb Tools & Specifications:

Incoming Links
link:www.mydomain.com
Pages Indexed
mysite site:www.search-marketing.info
Spider Name
FAST-WebCrawler (now Yahoo! Slurp)
Directory size
over 3 billion resources
Report spam to Yahoo!
How to list in AllTheWeb: free get links from sites listed in the Yahoo! Search index or submit your site (via Yahoo!) paid Overture Site Match (I do not recommend Overture Site Match / paid inclusion for most websites) or Overture Ads
AllTheWeb provides results for:
Lycos - backup search provider to Lycos (LookSmart is primary provider)
AllTheWeb - itself :)
AllTheWeb is powered by:
AllTheWeb - primary search results (via Yahoo! Search index)
Overture - paid ads

Got SEO Questions? Get Answers in Minutes NOT Days
Read the SEO Book blog today for the latest SEO tips.
Search the archives for specific posts
You may also want to ask your questions at the SEO Book community forum.