Testimonials
"I was thinking about you all day today and what a great person you are."

"I wanted to be #1...After 2 months I reached the top position for my most popular keywords."

Read More...

Above The Fold!
The SEO Book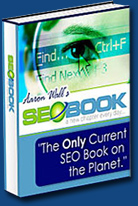 PPC Information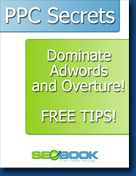 Learn more by reading PPC Blog today.
Need Links?
Need Traffic?
Use these
Free PPC Coupons
SEO Tools
WordTracker
- keyword suggeston
300% Bonus on Your First PPC Listing Deposit
False Deposit Bonus
Would a good site need to use foolish math tricks to try and trick you into spending money? Some good pay per click search engines offer a small kicker to get you to try their listings. When you start seeing numbers greater than 100% then the site authenticity and quality becomes suspect.
PPC Search Engines are Cheap
I can download a free ppc search engine script or buy a fully functional ad free one for under $100. That is not very much money, and if they can get about 20 people to spend $20 each then I make money. It is very simple to do if you know anything about back end programming. I knew nothing about ppc scripts, cgi, or php when I installed my first script in under an hour.
Various PPC Depost Bonuses
Once you recognize credits in an unpromoted script as being worthless you will see the following phrases have no real value.
100% deposit bonus
$5 free for signup
$10 free when you deposit $20
$10 free when you deposit $1
Why Third Rate PPC Search Engines are a Waste of Time
If the search engine receives no traffic due to not being advertised your $20 will slowly be ate by inflation until one day the junk search engine disappears.
In addition to this technique for wasting money is the creation of clicking agents. A couple software makers have created clicking bots which aim to fraud people out of their money. Small engines have little to no protection from this, and some may actually be using this technique.
Honest PPC Search Engines
I have a list of honest pay per click search engine located at my PPC toolbox page. (some with small, but real bonus)
I am the Skaffe PPC editor. Just about anything I add to the Skaffe directory is good stuff.
PPC Search Engine Sales Pitch
I actually installed a pay per click search engine on this site just to make you aware of how easy it is. The script was free and I have never installed a script before. Knowing nothing about scripts, CHMOD, or anything like that the script was inserted and modified in less than an hour.
If you want to list in my search engine you can start with $10 free, no deposit until you go through the free $10. - see how I did not give you a link to go to. I took the link down because I was shocked how many people were signing up despite what I said. NOTHING IS FREE - save your time!
PPC Conclusion
You should never have to pay to start advertising in a third rate PPC search engine that does not receive much traffic. At any rate you are paying with your time. I fully recommend learning more about pay per click search engines before signing up for about 30 random accounts.
You should also start on a larger pay per click search engine off the start as it is guaranteed to usually have a higher traffic quality.
PPC Search Engine Resources

Got SEO Questions? Get Answers in Minutes NOT Days
Read the SEO Book blog today for the latest SEO tips.
Search the archives for specific posts
You may also want to ask your questions at the SEO Book community forum.