Testimonials
"I was thinking about you all day today and what a great person you are."

"I wanted to be #1...After 2 months I reached the top position for my most popular keywords."

Read More...

Above The Fold!
The SEO Book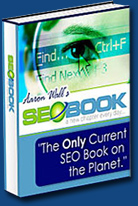 PPC Information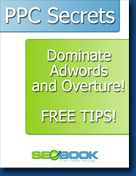 Learn more by reading PPC Blog today.
Need Links?
Need Traffic?
Use these
Free PPC Coupons
SEO Tools
WordTracker
- keyword suggeston
Free For All Link Pages (FFA)
Why Free For All Pages Suck
There is nothing more worthless on the internet than a banner filled free for all page that has 6 popups. If you have anything like this on your website it offers no value and scares away potential customers. A free for all page allows any person or mechanized worm to list a link on a page. This has no human intervention and your site may list between the MLM work at home and the Illinois Nazi sites.
What Search Engines think of Free For All Pages
In all reality, looking for links on free for all pages or from guestbooks is a waste of time. With no organization a free for all list is useless. While some search engines may place a small value on these pages most advanced algorithms will consider them worthless. If you sign up for many of these and they are your only good incoming links it will be hard for you to rank well.
Why Free For All Pages Don't Work
If there was good value associated with a free for all page then aggressive marketers would list their sites there over and over again. The free for all pages would get cluttered with more and more aggressive ads until it became useless and full of porn sites.
Submit to Directories
If you need free links, make sure your site is ready and submit it to what directories you can. Make sure you find the right category, that is what adds value to directories. Directory listings are the only "free for all" listings that are worth it. Please note that you should read the directory submission guidelines before submitting your site.
How Free For All Pages Make Money
When you sign up to be listed on junk free for all link pages you will find your email in box packed with free for all generated offers you are not interested in - time is not a free resource, is it? Everybody loves spam :)

Got SEO Questions? Get Answers in Minutes NOT Days
Read the SEO Book blog today for the latest SEO tips.
Search the archives for specific posts
You may also want to ask your questions at the SEO Book community forum.