Testimonials
"I was thinking about you all day today and what a great person you are."

"I wanted to be #1...After 2 months I reached the top position for my most popular keywords."

Read More...

Above The Fold!
The SEO Book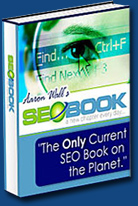 PPC Information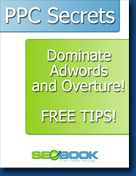 Learn more by reading PPC Blog today.
Need Links?
Need Traffic?
Use these
Free PPC Coupons
SEO Tools
WordTracker
- keyword suggeston
Search Engine Submission Services
Submit to Everybody Search Engine Submission Services
Many web sites provide search engine submission services which submit your web site to 1,000,000 search engines. There are only a couple search engines that matter. The rest of the "engines" provide your inbox with hundreds or thousands of daily spam emails.
What is an FFA Submission Page?
FFA pages do not matter as there are too many links of scattered variety for it to help your rankings. Also FFA links are just an excuse for people to market junk to you via email. Manual web site submission to the directories is a good idea, but search engines will pick you up eventually if you just have a few links pointing at you web site.
TrafficMagnet search engine submission services: spam email.
Monthly Search Engine Submission Services
Resubmitting your web site over and over does not make any sense. Why or how would this enhance your search engine ranking? It makes no sense for a search engine to reward you for bogging down their system. Resubmitting a web page over and over is a form of spam.
Search Engine Submission Services
The only search engine submission services worth using are through manual site submission. You can submit your site each search engine one at a time, or through paid inclusion programs. If you have a few decent inbound links search engines will eventually find your web site free.

Got SEO Questions? Get Answers in Minutes NOT Days
Read the SEO Book blog today for the latest SEO tips.
Search the archives for specific posts
You may also want to ask your questions at the SEO Book community forum.