Testimonials
"I was thinking about you all day today and what a great person you are."

"I wanted to be #1...After 2 months I reached the top position for my most popular keywords."

Read More...

Above The Fold!
The SEO Book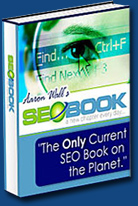 PPC Information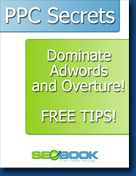 Learn more by reading PPC Blog today.
Need Links?
Need Traffic?
Use these
Free PPC Coupons
SEO Tools
WordTracker
- keyword suggeston
Duplicate Pages
Why are Duplicate Pages Evil?
Duplicate pages add no real content to the web and do nothing to improve the quality of the search engines output. By offering the same document over and over search engines would offer a horrible product with no variety. For this reason, duplicate pages are often filtered out. This is the exact reason Yahoo! dislikes many affiliate websites.
Why I do Not Use Duplicate Content
If you have to use duplicate content to market your site then you have deep faults in either design or strategy. If your content changes over time you will now be forced to waste your time updating twice as many pages.
Really I would like to say more, but that is all I can think to say. Page "B2" will not list significantly higher than page"B1" and the time and resources wasted making "B2" would be better spent improving "B1."
Random B Vitamin Sidebar (Please Laugh)
Just as a joke, learn how B vitamins work. I would caution believing anything anyone said entirely, as I was a nuclear reactor operator and how nuclear power works had some inaccuracies. (if you choose to believe me)
How do Search Engines Filter Duplicate Content?
Typically search engines determing which pages are duplicate by comparing the links, file size, and recently Google has got a patent to filter using page snippets.
What if My Articles Get Syndicated?
That is fine. Generally the site where the original article existed will list above the other versions of the same article. If the other sites list above yours then they are likely a more authoritative site. I view it as a positive for people to see my articles on other sites versus my own as it helps build trust.
What if Somebody Stole My Articles?
You can ask them to remove them. If that does not work then report them to their host and report them to the search engines.

Got SEO Questions? Get Answers in Minutes NOT Days
Read the SEO Book blog today for the latest SEO tips.
Search the archives for specific posts
You may also want to ask your questions at the SEO Book community forum.