Testimonials
"I was thinking about you all day today and what a great person you are."

"I wanted to be #1...After 2 months I reached the top position for my most popular keywords."

Read More...

Above The Fold!
The SEO Book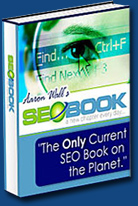 PPC Information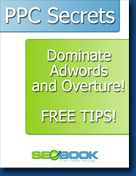 Learn more by reading PPC Blog today.
Need Links?
Need Traffic?
Use these
Free PPC Coupons
SEO Tools
WordTracker
- keyword suggeston
TrafficMagnet Website Submission
This email from Trafficmagnet is straight up Trafficmagnet spam email with the intent to defraud innocent people. In fact there are hundreds of posts about Trafficmagnet, and even entire Trafficmagnet pages on independent sites reviewing their work, on top of the hundreds of dissatisfied Trafficmagnet web posters in Google Groups
Trafficmagnet article (from haystack in a needle)
Hi,
I visited www.----------.com, and noticed that you're not listed
on some search engines! I would like to introduce to you an affordable
service where we can help enhance your business' global online presence
and increase the number of visitors to your website.
Our unique technology at www.trafficmagnet.com submits your website to
over 300,000 search engines and directories every month.
You'll be surprised how simple it is to now reach out to an international
market and increase the visibility of your products and services, at a low
cost to you.
Why not visit us at www.trafficmagnet.com and let us help you direct
traffic your way?
I look forward to hearing from you!
Best Regards,
Sarah Williams
Sales and Marketing
E-mail: Sarah_Williams@trafficmagnet.com
http://www.TrafficMagnet.com
if you want to learn more about how trafficmagnet works you can send me $80 and I will do absolutely nothing for you. I will be a magnet for your cash and offer no traffic. The fact that I can so openly bash trafficmagnet is a statement to the Trafficmagnet way of life. If Trafficmagnet had ethics they would not send Trafficmagnet SPAM selling garbage trafficmagnet software. Versus linking to the awful TrafficMagnet website I am linking to this exact document with the term trafficmagnet.
Trafficmagnet - this is a link that goes nowhere. a form of search engine spam used on this page to further help promote Trafficmagnet website submission software.
I hope this page to list near the top of search results for the term "Trafficmagnet"
search for Trafficmagnet on Google
TrafficMagnet on Traffick (from Ed Kohler)
trafficmagnet web page (you are already on this Trafficmagnet page)
in defense of Trafficmagnet, there are other unethical internet businesses which offer spam email and automated submission to hundreds of thousands of search engines through fake people.

Got SEO Questions? Get Answers in Minutes NOT Days
Read the SEO Book blog today for the latest SEO tips.
Search the archives for specific posts
You may also want to ask your questions at the SEO Book community forum.