Testimonials
"I was thinking about you all day today and what a great person you are."

"I wanted to be #1...After 2 months I reached the top position for my most popular keywords."

Read More...

Above The Fold!
The SEO Book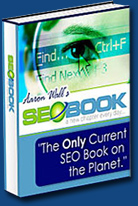 PPC Information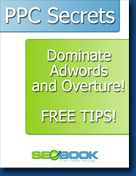 Learn more by reading PPC Blog today.
Need Links?
Need Traffic?
Use these
Free PPC Coupons
SEO Tools
WordTracker
- keyword suggeston
ScrubTheWeb
ScrubTheWeb is a mid sized search engine which offers free site submission. The least desirable thing about ScrubTheWeb is that when you submit a site it seems to offer a ton of commercial products.
Most of these SEO products reflect old data and are not things I would recommend using. It seems to me that the search engine is a front to sell low quality search marketing products. Some of the tips they provide are good, but 50% is not enough when it comes to search engine marketing.
Try ScrubTheWeb
ScrubTheWeb appears to be offering the sales of web optimization which it does not do an adequate job of providing. The Scrub The Web site seems to "also search" versus use their search engine as a first priority!
I guess if they can't make a competitive product they can at least try to make money off of their perception of those new to search engines. They even offer an affiliate program for that software. click here to join :(

Got SEO Questions? Get Answers in Minutes NOT Days
Read the SEO Book blog today for the latest SEO tips.
Search the archives for specific posts
You may also want to ask your questions at the SEO Book community forum.