Testimonials
"I was thinking about you all day today and what a great person you are."

"I wanted to be #1...After 2 months I reached the top position for my most popular keywords."

Read More...

Above The Fold!
The SEO Book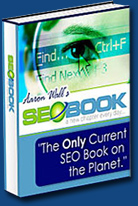 PPC Information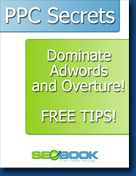 Learn more by reading PPC Blog today.
Need Links?
Need Traffic?
Use these
Free PPC Coupons
SEO Tools
WordTracker
- keyword suggeston
GigaBlast
Gigablast offers instant page indexing for free. You are limited in the number of pages you can submit to Gigablast per day, but Gigablast allows instant web indexing of your pages. Though its index size is rather meager compared to some of the larger engines such as Google or AllTheWeb, Gigablast still provides a quick check. If your site does not list high on GigaBlast with a smaller directory (and a presumably less complex ranking algorithm) than most major search engines, you will not likely list high on the other engines.
You can add up to 100 pages a day to the Gigablast index by going to the
Gigablast site submit page
. Gigablast does crawl the web, but not as quick as the other major search engines. Gigablast has an index of about 10% the size of the other major search engines.
Remember that a top listing in Gigablast does not guarantee a top listing elsewhere, but it does offer a quick check if you are on the right path. A fomer InfoSeek employer, originally Matt Wells wrote the code for Gigablast in C by himself. Recently he has added management.
Matt's search engine is runing at about half capacity on eight computers. If he can find more resources he may have a shot to go big time with his engine! He has been adding features such as page cache to the GigaBlast search engine.
GigaBlast Tools & Specifications

Incoming Links
link:mysite.com
Spider Name
Gigabot
Directory size
over 400,000,000 resources
submit a site to GigaBlast
GigaBlast provides results for:
IxQuick - an input to the meta search engines
GigaBlast - itself :)
GigaBlast is powered by:
GigaBlast - primary search provider. Gigablast has no paid listings as of yet.

Got SEO Questions? Get Answers in Minutes NOT Days
Read the SEO Book blog today for the latest SEO tips.
Search the archives for specific posts
You may also want to ask your questions at the SEO Book community forum.