Testimonials
"I was thinking about you all day today and what a great person you are."

"I wanted to be #1...After 2 months I reached the top position for my most popular keywords."

Read More...

Above The Fold!
The SEO Book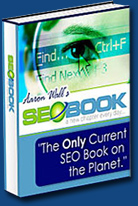 PPC Information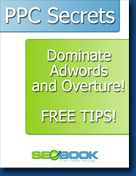 Learn more by reading PPC Blog today.
Need Links?
Need Traffic?
Use these
Free PPC Coupons
SEO Tools
WordTracker
- keyword suggeston
Aeiwi
Aeiwi is a keyword driven search engine and internet directory. You can search Aeiwi using the following search box. For the most part each Aeiwi list just lists more lists. I would call this a searchable directory more than a search engine. The biggest problem that prevents Aeiwi from becoming more popular is that it is somewhat fragmented and Aeiwi lacks an attractive user interface.
Try Aeiwi
How to List In Aeiwi free site submit
To submit to Aeiwi select the appropriate category and add your URL to it. Aeiwi is too fragmented to be useful in my humble opinion, although it is interesting....

Got SEO Questions? Get Answers in Minutes NOT Days
Read the SEO Book blog today for the latest SEO tips.
Search the archives for specific posts
You may also want to ask your questions at the SEO Book community forum.