Testimonials
"I was thinking about you all day today and what a great person you are."

"I wanted to be #1...After 2 months I reached the top position for my most popular keywords."

Read More...

Above The Fold!
The SEO Book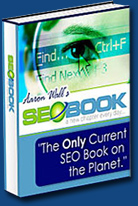 PPC Information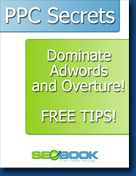 Learn more by reading PPC Blog today.
Need Links?
Need Traffic?
Use these
Free PPC Coupons
SEO Tools
WordTracker
- keyword suggeston
Inktomi
No B/S Inktomi SEO Tips:
Inktomi weighs in "on the page" optimization heavily. To list well you will want a decently high keyword density or many keyword rich incoming links.
Links are not weighted as heavily in Inktomi as they are in Google. Inktomi still counts many low quality links (such as those you would get from signing guestbooks).
Placing your keywords at the beginning of your page title is extremely important to help you rank well in Inktomi. Keyword rich meta descriptions do a good job of aiding good keyword rich body copy to help you gain top Inktomi rankings.
I also try to use keyword rich subheaders to help boost Yahoo! Search / Inktomi / MSN rankings. Other than that I do not worry much about keyword density and I try to write the best I can for human eyes.
About Inktomi
Inktomi is not a search engine, but a searchable database, which was founded in 1996 "with core search technology based on a research project at UC Berkeley that harnessed the power of parallel computing."
While Inktomi has no search site of its own, it had broad coverage through its partner network. Currently MSN is the largest search site being powered by Inktomi (please note that MSN is filtering paid inclusion listings out of their search results).
Shortly after switching to Google search results Yahoo! purchased Inktomi. With this shift the stock price plumeted making Inktomi a cheap asset. Before Google became so highly popular the Inktomi database was the Google of search engines. Now Yahoo! has dumped Google and is using part of the Inktomi core in their new Yahoo! Search search engine.
Where Does Inktomi Power Search Results?
The Inktomi database sends information to HotBot and MSN as well as many other sites. HotBot allows you to search only the Inktomi database (or any of 3 other engines, one at a time).
Try Inktomi
Inktomi Paid Inclusion
Inktomi offers a paid inclusion program for $39 a year. Since MSN is the only large Inktomi distribution partner and MSN filters out the paid inclusion ads I do not see much value in the Inktomi paid inclusion program.
You can submit to the Inktomi database for free also through the Microsoft bCentral submission page. Please note that this may soon change as this relationship is certain to change.
Inktomi Tools & Specifications:

Incoming Links
linkdomain:mysite.com
(without internal links)
linkdomain:mysite.com -domain:mysite.com
Pages Indexed
domain:mysite.com or domain:www.mysite.com please note the www does make a difference
Spider Name
Inktomi Slurp (now Yahoo! Slurp)
Directory size
over 3 billion resources
Report spam to Inktomi.
How to get listed in Inktomi: free get links from sites in the Inktomi database or site submit paid inclusion program (I do not recommend their paid inclusion program for most websites)
Inktomi provides results for:
Inktomi is powered by:
Inktomi - it is a database which has no backup. Inktomi does offer paid inclusion and index submit options to make revenue off of their search product. I believe Inktomi is only a subset of the entire Yahoo! Search database as they only provided about 25% of the results which Yahoo! Search did for a few common queries I recently checked.

Got SEO Questions? Get Answers in Minutes NOT Days
Read the SEO Book blog today for the latest SEO tips.
Search the archives for specific posts
You may also want to ask your questions at the SEO Book community forum.