Testimonials
"I was thinking about you all day today and what a great person you are."

"I wanted to be #1...After 2 months I reached the top position for my most popular keywords."

Read More...

Above The Fold!
The SEO Book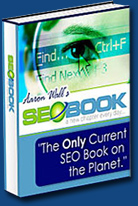 PPC Information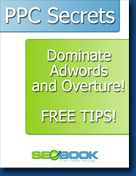 Learn more by reading PPC Blog today.
Need Links?
Need Traffic?
Use these
Free PPC Coupons
SEO Tools
WordTracker
- keyword suggeston
Go
No B/S Go SEO Tips:
Go is powered by Google. If you rank well in Google you will also rank well in Go. I do not focus any effort on optimizing for Go, but consider any Go traffic as a bonus for ranking well in Google.
About Go
Go is the web site which remains from when Disney entered the internet. Go is not actually a search engine, but a portal which uses the Google search technology.
Disney abandoned most of its internet technology ventures because they were hemorrhaging cash. The Go network is no where near as popular as it was back when Disney actively advertised it, but Go still is free additional traffic for your top Google efforts.
Disney was looking to sell the few remaining patents on the InfoSeek search engine, but want to keep the name from resurfacing as a reminder of the error in their ways online. Disney's web ventures sprung up directories such as JoeANT and GoGuides.
Disney still has many top internet properties such as ESPN and ABCnews, but as a whole the Go network was one of the biggest flops the internet has seen.
How to list in Go: free get links from sites listed in Google or submit your site to DMOZ or Google paid Google AdWords
Go provides results for:
Go is a portal powered from Google search technology.
Go is powered by:
Google
- primary search provider
Google AdWords
- provides ads

Got SEO Questions? Get Answers in Minutes NOT Days
Read the SEO Book blog today for the latest SEO tips.
Search the archives for specific posts
You may also want to ask your questions at the SEO Book community forum.