Testimonials
"I was thinking about you all day today and what a great person you are."

"I wanted to be #1...After 2 months I reached the top position for my most popular keywords."

Read More...

Above The Fold!
The SEO Book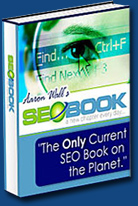 PPC Information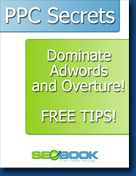 Learn more by reading PPC Blog today.
Need Links?
Need Traffic?
Use these
Free PPC Coupons
SEO Tools
WordTracker
- keyword suggeston
Why Small Pay Per Click Search Engines are Bad
I am a true fan of the underdog. Sometimes paying for listings in a super small PPC search engine is just not worthwhile though. There are four main fronts which diminish the value of small PPC search engines.
Small pay per click search engines are susceptible to fraud. Even if the PPC search engine is completely honest, there are still programs out there which aim to profit from security holes. A few CACA units could take down an entire PPC search engine.

*CACA is the name a web designer gave to his clicking agent he generated. I do not want to link to his site though.

I created my own small search engine just to show how easy it is to create one, though I have not actively promoted it due to feelings of guilt :( It is back fed from SearchFeed and generates about a dollar a day. It is located here: http://www.101cigarettes.com
Small pay per click search engines lack distribution. Few people find these random small search engines and make them the home page. Few people directly use these search engines. If these engines had great distribution they would not be considered small. Overture drives very little direct traffic. Overture has a big distribution network. Distribution partners or amazing overlaying technology are what drive large sums of traffic.
Small pay per click search engines have slow feedback loops. You will not be sure what is work until after considerable time is spent. Large pay per click search engines provide a much faster feedback loop.
Listings in small pay per click search engines are time consuming. Few people effectively use the major PPC search engines. Time wasted trying every little PPC search engine could be used to better optimize the ads which are running on search engines providing hundreds of millions of searches each day. I recommend optimizing AdWords campaigns before branching out to small pay per click search engines.
Many small pay per click search engines lack Vital Features. A couple of the larger pay per click search engines are fighting out a battle to add new features which improve their product. Both Overture and Google offer conversion tracking built into their products. On top of that some of the bid management tools are not set up for the super small search engines. On top of that local search targeting will become more mainstream in the bigger engines, but it will be a long time coming in the small ones. There are many reasons to stay with the big fish.
See also:

Got SEO Questions? Get Answers in Minutes NOT Days
Read the SEO Book blog today for the latest SEO tips.
Search the archives for specific posts
You may also want to ask your questions at the SEO Book community forum.