Testimonials
"I was thinking about you all day today and what a great person you are."

"I wanted to be #1...After 2 months I reached the top position for my most popular keywords."

Read More...

Above The Fold!
The SEO Book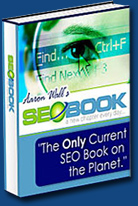 PPC Information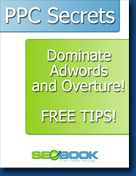 Learn more by reading PPC Blog today.
Need Links?
Need Traffic?
Use these
Free PPC Coupons
SEO Tools
WordTracker
- keyword suggeston
Iwon
No B/S IWon SEO Tips:
IWon is powered by Google. Rank well in Google and you will rank well in IWon. I look at any traffic from IWon as a bonus to the traffic I get from doing well in Google.
About IWon
Iwon was one of many search properties purchased by Ask Jeeves in early 2004. The IWon search and advertising is still provided by Google.

Iwon launched in late 1999 and is a decent sized portal which offers the concept of free prizes to sell its search services and associated advertising. Each time a user performs a search or meets certain criteria on Iwon they cast ballots for an upcoming prize drawing. Currently Iwon is powered by Google.
Iwon has a disproportionately large number of sponsored listings ($) on their Search Engine Results Pages (SERP), but some organic Google listings do show up there.
To list well in IWon you need to list well in Google, or buy Google advertising. As many as the first 10 search results are AdWords ads so it is somewhat hard to get decent distribution on Iwon without advertising in the Google AdWords program.
How to list in Iwon: free get links from sites in the Google search index or submit to Google paid Google AdWords
Iwon provides results for:
Iwon is a portal powered by other search providers
Iwon is powered by:
Google - primary search provider
Google Adwords - provides ads

Got SEO Questions? Get Answers in Minutes NOT Days
Read the SEO Book blog today for the latest SEO tips.
Search the archives for specific posts
You may also want to ask your questions at the SEO Book community forum.