Testimonials
"I was thinking about you all day today and what a great person you are."

"I wanted to be #1...After 2 months I reached the top position for my most popular keywords."

Read More...

Above The Fold!
The SEO Book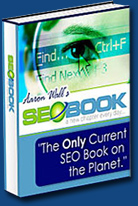 PPC Information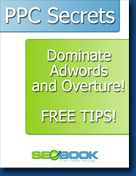 Learn more by reading PPC Blog today.
Need Links?
Need Traffic?
Use these
Free PPC Coupons
SEO Tools
WordTracker
- keyword suggeston
Search Engine Catalog
The catalog is just like one you would read from Sears with product information in it. The biggest difference between this catalog and that is the size and this carries a little more information.
What Information is Stored In a Search Engine Catalog?
Many search engines do a full page scan as well and title tags as read the meta description. Search engines also record which links are pointing where with what text in them. All this raw data is stored in a user base for future usage by the search engine software and user interface.
What is a Reverse Index?
When you search a search engine does not have enough time to look through it's entire database for matching results. What they do is create a reverse index of the web. For example I just wrote the word reverse and since I used it on the page then this page is one of the search results for the word reverse in Google or Yahoo!'s index. When you see results 1-10 out of about 3,004,034 this page would be one of those 3,004,034 pages.
What is Google Bombing?
If you point a link at someone else's website with words in the link then their page will be listed as one of the results for that term. Frequently a group of people do this with funny phrases to cause a page to list for phrases that generally do not relate to it. This is commonly called Google bombing.

Got SEO Questions? Get Answers in Minutes NOT Days
Read the SEO Book blog today for the latest SEO tips.
Search the archives for specific posts
You may also want to ask your questions at the SEO Book community forum.