Testimonials
"I was thinking about you all day today and what a great person you are."

"I wanted to be #1...After 2 months I reached the top position for my most popular keywords."

Read More...

Above The Fold!
The SEO Book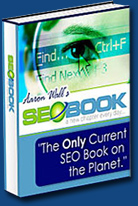 PPC Information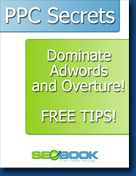 Learn more by reading PPC Blog today.
Need Links?
Need Traffic?
Use these
Free PPC Coupons
SEO Tools
WordTracker
- keyword suggeston
Free Copywriting Tips
Sound human. Brocureware = crap, crap, crap!!!
Focus on the reader.
Do not use jargon / corporate speak.
Short & simple sentences & short words = good.
Break up text into small paragraphs.
Used bulleted lists, bolding, headers, and sub headers to make the pages easy to scan.
Minimize the amount of text used to state a point.
Use bulleted lists, headings, and subheadings to make text scanable.
Focus on the benefits to and goals of the site user. Its usually better to focus on giving people rewards or giving them news they want than to focus on creativity.
Make it easy for the person to do what you want them to.
Use specifics.
Focus on the correct appeal.
Make your stuff sound quick and easy, but make sure it sounds authentic and believable too.
In sales letters is it usually good to talk in present tense second person.
Write more copy than you need and then trim it down.
If you are selling something testimonials and human pictures help in building trust.
A / B split test your sales copy.
Additional Copywriting Information

Got SEO Questions? Get Answers in Minutes NOT Days
Read the SEO Book blog today for the latest SEO tips.
Search the archives for specific posts
You may also want to ask your questions at the SEO Book community forum.